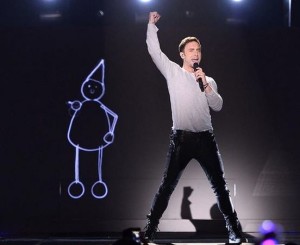 The Swedish act for this year's Eurovision Song Contest has been under heavy accusations of copyright infringement of music as well as the visual effects used during the performance. The latter is now being changed.
Måns Zelmerlöw won with a record number of points this year's Melodifestivalen. He will be representing Sweden at the Eurovision Song Contest in May with the song Heroes.
From an early time the song was met with plaigiarism accusations of both music and visual effects. The latter will now be changed to avoid a conflict. Director of Heroes, Fredrik "Benke" Rydman says:
"As it has been noticed, I have been inspired to the figure, and though I am denying that it should be plaigiarism, we can't foresee the outcome if it would come to a case. We don't have the time for it either."
SVT is mentioning that the video will now be changed on the official site Eurovision.tv and something else will be planned for the song which Måns Zelmerlöw will represent Sweden with in Vienna. Måns comment on the new situation like this: 
"The figure will get new clothes. That's where we are now, and he can't wear the same outfit as in February". 
We are yet to see entirely what Sweden will come up with, but if not before then it will be revealed on the 21st of May where they take part in the second semi-final of the 2015 Eurovision Song Contest. 
A temporary preview video without the original visual effects can be seen below: