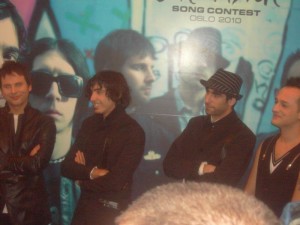 During the presentation of the Turkish song, MaNga and TRT's general manager, İbrahim Şahin, gave a press conference to introduce the new procedure of the contest and more about the song, We Could Be the Same.
At the beginning of the press conference, İbrahim Şahin explained the new system and talked about their thoughts about the contest. Then both MaNga and Mr. Şahin answered several media questions.
Mr. Şahin opened the dialogue by announcing this year's budget will be 400.000 Euros as it was last year for Hadise to meet her needs, many sponsors will also help with raise this amount. He also stated that he would want the song to be performed in the Turkish language, but he admitted that to get good results, English is a better language at the contest.
In answer to a question about what the group will be dressed in on the night of the contest, Ferman (the lead singer of MaNga) replied Que will be their sponsors during this contest period.
The song was composed by the group and MaNga did not change their style especially for the contest. They said they decided to take part in the contest because they feel it is a huge festival which many cultures are involved with.
The group said that they have some options about the performance in the contest, and they are still to decide about any of them. It was also mentioned that the message of the song is the quest for a peaceful world where people live with love and faith and they added: Basically, we could be the same!
According to one of the questions which asked if it was a risky decision to join to the contest, Mr. Şahin replied that the Eurovision Song Contest has so much potential to take people's interest with nationalistic feelings, so this year TRT decided to announce a song presentation later than many Balkan countries so that the Eurovision fire would be calmed down.
Mr. Şahin also added that this year Turkey is in the second semi-final ,where another Turkish country, Azerbaijan,  is also in. He believes that is going to be a hard year to qualify as both countries will divide the potential votes. 
A question was asked about what would be a successful result for MaNga. Ferman suddenly replied that this is the 6th time at the final. The best success is their participation at the contest when 80.000.000 fans will be watching them worldwide.