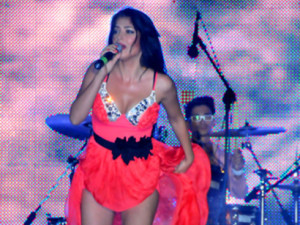 The interesting for the Eurovision Song Contest in this year's host country, Azerbaijan, has been growing a lot. Something that is confirmed by the many Eurovision concerts arranged. Yesterday Mandinga from Romania was the international guest star of such a concert.  
The Eurovision concert was held in Baku on the 21st of June and took place in front of the fountain named "Music Flame".
It was dedicated to the Youth Organization "Yeni
Azerbaijan" with logo "From salvation to progress".
The special guest was the 2012 participant from Romania Mandinga, with the charming leadsinger Elena dressed in a stunning red outfit. They received a big appluse for the performance of their entry Zaleilah, which came 12th at the Eurovision Song Contest in Baku last month.

Sabina Babayeva, who represented host country Azerbaijan also turned up last night to perform her 4th placed entry When The Music Dies and the same did Safura, the 2010 Azerbaijani representative brought back memories performing her two year old entry, Drip drop, in a short blue dress.
Among the other invited guests were famous singers from Azerbaijan
such as Tunzale Agayeva, Natavan Habibi, Sevda, Elnur
Mamedov and Aygun Bayler.
The moderators of the festive concert were Ilkin Hasani and Afag Ganjli.