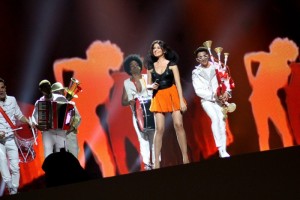 If you still haven't sung to yourself Zaleilah by Mandinga, you have to listen to the second rehearsal by Romania and dance.
The second rehearsal by the Romania participants has been improved a lot. There were five guys on the stage in white outfits, Elena was dressed in black blouse and orange skirt. There was a trumpet man on the left of the stage who made plastic moves as the song started.
Everything was synchronised. There were two guys with drums and two guys with trumpets. One guy was playing on harmonica. As they had lack in time on rehearsal they tried to make their best on the stage. The first rehearsal was okay but with some minor problems.  The second rehearsal was done perfectly by them as they were discussing much time their further steps on the stage.
As the show started all of the guys were playing on various musical instruments making the perfomance memorable. The Mandinga song is very joyful and is going to be a summer hit.
The background was pink with orange flashes and love hearts that matches this summer song.