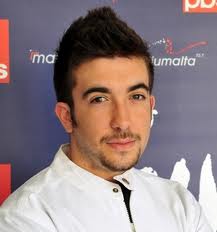 Enthusiastic participants Malta tonight decided to send Kurt Calleja to Baku in May.  In a closely fought national final tonight, we will be hearing the uptempo song This is the night.
Last night, Malta reduced the field of 22 hopefuls down to 16.  Tonight that 16 would compete, via a combination of jury and televoting, for a ticket to represent their country in Azerbaijan.
We opened to a pleasant song in Maltese that was accompanied by the effective use of sign language.  This was the first in an extended medley of songs all in Maltese.
Next, the jury who will comprise 50% of the votes was introduced.  Among them were Bruno Berberes and Julian Vignoles.
Onto the songs:
1. Lawrence Gray – In your eyes (Philip Vella, Cher Vella) –
This ballad sung by deep-voiced Lawrence opened proceedings.  It came across well, but was not that outstanding.  He put a lot of feeling into this performance, and he meant every word.  However, it was a good opener.
2. Deborah C ft Leila James – You make me go uh! uh! (Renier Patrick, Vervoort David –
Deborah was in a short black dress topped off by a tie and air hostess style hat.  Two dancers accompanied her in the uptempo number.  Belgian Leila then joined her in a similarly styled grey dress.  This had a floor-filling quality about it.  The simple lyric may come across well if this is picked for Baku.
3. Dorothy Bezzina – Autobiography (Magnus Kaxe, Gerard James Borg) –
Power ballad time again for long haired Dorothy.  She was in a green dress.  She sang this very well and was enjoying her time on stage.  The backing singers complimented this song well, which built to a final chorus.
4. Gianni – Petals on a rose (Robin Abrahamson, Marcel Numhause, Trevor Fenech, Ahmed Aly) –
A big cheer greeted this song, which had Gianni and his guitar accompanied by a five piece band.  This was a better than average rock number had a great guitar riff towards the end.  The best song so far.
5. Claudia Faniello – Pure (Philip Vella, Gerard James Borg) –
Veteran Claudia was back with a piano led ballad.  She was unaccompanied, apart from the piano and sang this heartfelt ballad in a long silver dress.  She wants to represent her country, and this song suited her voice perfectly.
6. Danica Muscat – 7 days (Philip Vella) –
Our second Philip Vella was performed by the young Danica.  In a simple short red dress she sang this ballad in a very understated way.  This was another quality song and Danica seems assured of representing Malta one day, if it's not this year.
7. Fabrizio Faniello – I will fight for you (Papa's song) (J Bejerholm, N Edberger, R Uhlmann, W Fenech, F Faniello) –
Twice-repesentative Fabrizio was next on.  He loves the contest and you can tell he wants to be in Baku.  This was upbeat and instantly foot-tappy.  It also had an energetic dance routine to go with it.  There was a huge cheer when this song finished.
8. Corazon Mizzi – Mystifying eyes (Paul Giordimaina, Fleur Balzan) –
This was another ballad with Corazon on the piano. She looked self-assured performing this.
However, there was not a huge amount that made this stand out from the other songs.
9. Richard Edwards – Look at me now (Jan van Dijck, Richard Edwards) –
Richard was in a dark velvet jacket and grey trousers.  Another balladeer, and he was accompanied by another band.  This built well and it suited his voice.  While a ballad, it seemed to be more northern European than the ones before it.  Maybe stood a chance.
10. Kaya – First time (Gorgi) –
Kaya wore a striking long 'conical' dress of black and white.  The staging was very akin to the Serbian winner Molitva, and also had that balladic vibe to it.  Heartfelt and strong, but maybe not quite memoable enough.
11. Amber – Answer with your eyes (Ray Agius, Alfred C Sant) –
Amber's staging was very dark, to go with this downbeat ballad.  She wore a long purple dress and had five backing singers who spent most of the song in silhouette.  It was another song that built over the three minutes.
12. Wayne Micallef – Time (Wayne Micallef) –
Wayne ad written this song himself, and was sat at the piano.  It was another ballad, but somehow contrasted completely with the previous song.  He engaged well with the camera and gave it his best shot.
13. Kurt Calleja – This is the night (Johan Jämtberg, Kurt Calleja, Mikael Gunnerås) – This was out first uptempo song for a while.  Kurt had co-composed this song, so put plenty of feeling into this.  He moved around the stage, singing with the various members of his backing band.  The chorus maybe got a bit repetitive towards the end, but the cowd seemed to really like it.
14. Janvil – You are my life (George Platon) –
Janvil broke the mould with his vivid plum coloured jacket.  This was neither rock nor ballad, but instead had country/western overtones.  He gave a good performance and some of the audience were on their feet during the song.
15. Klinsmann – No way back (Paul Abela, Klinsmann Coleiro, Jonathan Spiteri) –
Klinsmann was back to try again for a ticket to Baku with another ballad.  Another piano led ballad and seemed a higher quality than some of the others we'd heard tonight.  The second verse was more uptempo. Klinsmann had a stage presence about him, and this song must stand a chance.
16. Francesca Borg – Take me far (Marco Debono, Doris Chetcuti) –
Finally, diminutive Francesca took to the stage in a little white dress.  Another downbeat ballad and Francesca was joined on stage by a piano, cello and thre able backing singers.  This was a pleasant song, but seemed to end quite abruptly.
The phone lines were now thrown open for the people of Malta to cast their televotes.  As has become custom, we were shown brief reprises of the 16 songs.
We then spoke to the various performers in the green room, and the topic of conversation revolved around people's lucky charms.
Twenty minute or so later, the voting lines closed.  While they were being collated, Glen Vella too to the stage with his new song Lie.  Then in a Michael Jackson tribute, he sang Heal the world.
Next was a bit of a coup for Malta – the first live performance of the French song in Baku – Echoes (you and I) by Anggun. She spoke to us briefly about the song, saying that you cannot buy happiness, and that love conquers all. She also told that she's raising money to fight hunger with the proceeds of her song Only love.
Before the results were announced, Ell & Nikki came on stage and sang the 2011 winner Running scared.  They also spoke to us about their year.  It had changed their lives.  Preparations for the 2012 in Baku were going well, with the venue taking shape.  Ell then sang a solo number in Azeri.  Not to be outdone Nikki followed with her new song Crush on you.
A combination of televoting and individual votes from each juror was used to determine a winner.  From the start it was close between Claudia Faniello and Kurt Calleja.  However, in the end the winner was Kurt Calleja.