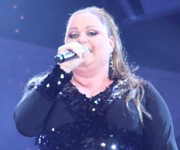 Last Saturday, it was time for the Maltese people to enjoy the Malta Song for Europe, the Maltese national final. After eight semi finals with 56 entries, Chiara had the happy ending with her song What If We.
The 22nd Malta Song for Europe was held in Valetta with hosts by Valeria Vella and Pablo Michallef, and broadcast live from TVM. The twenty best songs from 56 entries performed in two rounds. In the first round, an expert jury chose the best 3 acts, and in the second round, televoting decided the winner.
In the first round, twenty songs performed in this order:
1.   The Elements – Ha hi hu
2.   J. Anvil – Choose your number
3.   Baklava – Kamikaze lover
4.   Wayne Micallef – Where I belong
5.   Vittorio & Dorothy – Promises
6.   Classic Rebels – Tonight at the opera
7.   Rosman Pace – One million ways
8.   Q – Before you walk away
9.   Chiara – What if we
10. Jamie Tonna – Where was I?
11. Christine Barbara – Life is an opera
12. Eleanor Cassar – Someday
13. Kylie Coleiro – Let it shine
14. Raquela – Crossroads
15. Georgina & Ruth Casingena – Avalon
16. Alison Ellul – Typical me
17. Trilogy – The song in your heart
18. Claudia Faniello – Blue sonata
19. Klinsmann – Butterfly sky
20. Miriam Christine – Mama
This year, the Maltese Song for Europe saw some previous Eurovision Song Contest singers who had participated for Malta before, such as Chiara (1998 & 2005), Miriam Christine (1999) and Ludwig (2004). Only Chiara successfully qualified for the second round in the final night. The standing of jury voting went as:
1. Chiara – What if we
2. Q – Before you walk away
3. Eleanor Cassar – Someday
While the Maltese were voting, viewers were entertained by many different acts, including 2009 contestants, Hadise from Turkey, and the United Kingdom's Jade. Naturally, both sang their entries for Moscow. After jury voting, televoting awarded the win to Chiara and to her song What If We. The song is composed by Marc Paelinck, who wrote the Belgian entries in 2002, Sister by Sergio and the Ladies and came 13th, and in 2004, when 1 Life by Xandee came 22nd. The lyrics are written by Gregory Bilsen.
Chiara has participated two times in the Eurovision Song Contest before, in 1998 with The One That I Love, and in 2005 with Angel, ending in third place with both of them. This time, Eurovision Song Contest fans will be able to watch her for the third time at the contest with supports of televoting. You can watch the winning song What If We below. You can also watch the performances by Jade and Hadise.
Chiara will compete in the first semifinal on 14th MAy.