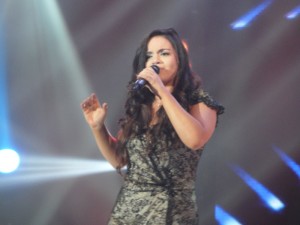 Tonight Malta will select the song to represent them in the 2013 Eurovision Song Contest.  Last night 16 acts competed in a semi final and qualified for the final at the MFCC in Ta'Qali, Malta. 
The Malta Eurosong national selection is a massive occasion and is the most popular tv show of the year in the ratings.  Many familiar faces from previous Malta national finals competed against some up and coming popular singers.  The composers featured writers who have written songs for Malta in the past at Eurovision such as Phillip Vella, Gerard James Borg and Paul Giordimaina.  Also we had a song composed by Thomas G:son, the writer of Euphoria, last year's Eurovision winner.
 The songs:
1. Richard Edwards – Fall Like Rome 
So first up we have a popular entry from the popular Richard Edwards. The music is dramatic as it opens.  The song has a soft rock feel. This gets a big reaction in the hall.
2. Ylenia – Tides Of Illusion
The song begins slowly and builds up to an exciting upbeat dance number.  The song has a great production.  Ylenia is joined by three dancers on the stage. Ylenia is wearing a lovely red dress.
3. Janice Debattista – Perfect Day
A lovely ballad by Janice.  You can feel the emotion in the performance. She is wearing a long blue dress.  The audience like this a lot.
4. Chris Grech – Never Walk Away
A popular song in the polls run by fans in Malta.  A slow atmospheric song. Chris is in casual jeans and waist coat. 
5. Marilena – Overrated
This is an uptempo dance song.  Marilena and her dancers are wearing black.  A lot of energy. Good positive performance. 
6. Petra – No One's Home
A soft rock song well performed.  Petra gives a polished performance with strong vocals.  She is with male rock band on stage with guitars and drums. 
7. Dorothy Bezzina – Starting From The End
This song builds and builds and is in your head after hearing it.  Dorothy has a fine voice and gives a powerful performance. She is wearing a long cream dress.
8. Domenique – Too Little Too Late
A lovely and gentle ballad performed beautifully by Domenique.  She is joined on stage by three girl backing singers Christine Haber, Sarah Crystal and Kylie Coleiro.  Domenque's brother, Christian, is also on stage playing the piano.  Domenique is wearing a blue dress. 
9. Jessika – Ultraviolet
A lively performance by Jessika to this jerky upbeat song.  Lots of energy.  Jessika begins sitting and then bounces around the stage.  This went down well with the audience. 
10. Franklin Calleja – Let Your Heart Talk
Another emotive ballad this time performed by Franklin.  He has really strong soulful vocals.  Maybe we will see a lot more of him in the future. 
11. Claudia Faniello – When It's Time
Claudia is back with a guitar sound.  This song reminds me a little of Torn by Natalie Imbruglia.  She is wearing a blue and black uniform with a blue cap.  Another song that went down well in the hall. 
12. Corazon – My Strange Love
A gentle ballad. Corazon begins at the piano and eventually walks to the front of the stage.  A very strong and positive performance.  
13. Kevin Borg – Needing You
One of the big pre-show favourites.  Kevin gives a classy performance of this 90s style ballad that reminds me a little of American singer, Richard Marx.  He is joined on stage by three backing singers. 
14. Scar – Superstar
The only band/duo in the contest.  They are having fun on stage.  There are guitarists and drums.  They are popular in Malta and this was confirmed with the generous applause at the conclusion. 
15. Melanie Zammit – Loverdose
A dance song with a hypnotic rhythm. Melanie is wearing red shorts. Even the screen has lots of red and images of Melanie in the background.
16. Danica Muscat – Fantasy
A classy song and beautiful performance by Danica.  This a strong melody.  Danica is joined by three girl backing vocalists and a male guitarist. 
17. Petra & Richard Edwards – Wonderful Today
Petra and Richard are together now on stage with the middle of the road rock sound. Petra is wearing black leather pants and Richard is jeans and jacket.  You can see they both enjoyed performing this together.
18. Deborah C – Love-O-Holic
Now the pace moves up with a really lively commercial pop dance track from Deborah.  The song is very catchy.  Deborah is wearing all black and is joined by two male dancers.  Another popular song in the hall. 
19. Gianni Zammit – Us Against The World
More soft rock from Gianni.  He owns the stage as he performs.  He is casually dressed and gives a strong vocal performance. He joined by a four piece male band and a female backing vocalist.
20. Raquela – Keep Believing
We remember Raquela from 2009 and 2011 with strong ballads.  A total contrast this time as she performs an trance dance song with a great catchy rhythm.
21. Gianluca Bezzina – Tomorrow
A simple and effective happy song that the audience love and are happy clapping and singing a long.  Gianluca sings with a smile on his face and is enjoying every moment.
22. Amber – In Control
Amber returns with a polished vocal on this almost pop/jazz retro type sound.  She is confident on stage and delivers a strong vocal performance.  A nice stage show.
23. Klinsmann – The Remedy
A soft rock song. Guitar driven and catchy performance.  Klinsmann is wearing a blue jacket.  He is joined by a band and two backing girl vocalists including his sister, Kylie.
24. Davinia – Betrayed
A very strong ending to the show by Davinia with this Adele/James Bond type theme.  Strong vocals and a memorable song. Very atmospheric. Strong vocals and the audience loved this too. 
The show: 
The interval act featured Chris and Moira who represented Malta at the 1994 Eurovision  Song Contest. 
The voting: 
The voting is a combination of televoting and jury.  The 16 acts to make it to the final are –
Richard Edwards
Janice Debattista
Chris Grech
Dorothy Bezzina
Domenique
Jessika
Claudia Faniello
Corazon
Kevin Borg
Scar
Petra & Richard
Deborah C
Gianni Zammit
Gianluca Bezzina
Amber
Davinia Pace
Malta at the Eurovision Song Contest
Malta first participated in the Eurovision Song Contest in 1971.  Since 1991 they have achieved eight top ten placings in a row, including second place finishes in 2002 and 2005. In recent years, however, Malta's fortunes in the Contest have been mixed, coming last in the 2006 contest and failing to qualify for the 2007, 2008, 2010 and 2011 finals.  Kurt Calleja made it to the final last year with This Is The Night.
Chiara has represented Malta three times with the The One That I Love (1998), Angel (2005) and What If We (2009).