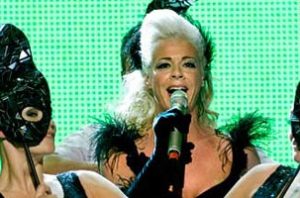 In the 4th semifinal, which took place in Malmö, Sweden has picked Agnes & Malena Ernman to compete in Globen on the 14th of march. Star Pilots and Sarah Dawn Finer are given a second chance to qualify on the 7th of march when the second chance heat is held.
The voting was a quite a dramatic one. After the first results of the first round of the voting, we saw the ESC-experienced duo Anna Sahlene (Estonia 2002) and Maria Haukaas Storeng (Norway 2008) being eliminated after finishing in 7th place. Next3 finished in 6th and Susanne Alfvengren in 8th place.
The remaining songs was:
Song 1. Agnes – Love Love Love
Song 2. Star Pilots – Higher
Song 5. Thorleifs – Sweet Kissin' In The Moonlight
Song 6. Sarah Dawn Finer – Moving On
Song 8. Malena Ernman – La Voix
In the first duel, Agnes Carlsson (one of the favourites before the semifinal) faced the group Star Pilots (who quite surprisingly came first in the polls where the audience were asked to pick out their favourite after the friday rehearsal). Agnes won the duel and is therby a finalist in Globen.
In the second duel, Sarah Dawn Finer faced Malena Ernman who sang Fredrik Kempes opera-inspired "My Voix". Malena had, quite suprisingly, just been picked as the last duelist ahead of one of forehand favourites Thorleifs. She also won her duel against Sarah Dawn Finer which means that goes through to Globen as the 8th finalist.
Star Pilots & Sarah Dawn Finer will now go through to the second chance heat which will be held in Norrköping on the 7th of march. In this heat, finalist number 9 & 10 will be selected.
The international jurys choice fell on Sarah Dawn Finer. She is now one of the four participants that can qualify to Globen as the 11th finalist by being selected as the international jurys choice.