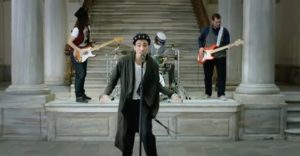 The Turkish representative Can Bonomo, who was selected internally by the broadcaster TRT, premierred his representative song Love Me back with a special lansman a couple of weeks ago. After that Can immediately started on the official video for his Eurovision Song Contest entry, which has now been released.
In the representative song, Love Me back, Can Bonomo explains a sailor's love who is living on Agean costs. Therefore, the video has been shot with several costumes in different places. Arranger of the song, Can Saban was also the director of the official video-clip where the visual director was Murat Tuncel. The video has been recorded with an ARRI Alexa camera. In the meantime, the members of the music band, Multitap also appeared in the video.
The first scene took place at Istanbul University's main department. The crowdest scene called Cümbüş was recorded there with the professional players. Just for this scene, the players took some extra classes from experts for specialities within music. 
At the second day of making the video, Can Bonomo and his team continued their works but this time on a special ship named Kybele as in the concept of the song.  Due to bad air conditions as İstanbul is having one of the coldest winters this year, the snow-storms caused some delays at the record of this scene.
The final scene of the video-clip was recorded in a historical place of the city, the Basilica Cistern, which was used as a water depot of Istanbul by Byzantines in first centuries. Two hundreds of dresses and hundreds of people in total was used for the recording of the clip.
Turkey will participate in the second part of the second semi-final at the Eurovision Song Contest in Baku this May. Below you can watch the official video-clip of their entry Love Me Back: