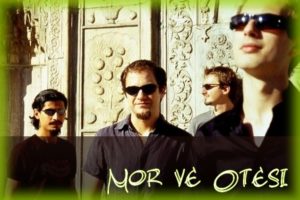 The group Mor ve Ötesi has started on their mission in the 2008 Eurovision Song Contest which will be held in Belgrade, Serbia this year.  The group members came together to make the video of their entry, 'Deli'.
Their photographer was Okan Bayülgen with director Ezel Akan. The designer was Beyhan Murphy and costumes were designed by Ümit Ünal. Making the video took two days and it's made in Ayazaga Studios, İstanbul. Although they were under pressure from the Turkish media, they seemed very confident and the lead singer Harun Tekin gave a interview for Turkish newspaper "Milliyet" with the other members of the group.  
"We are working very hard everyday. Reportages, making the videos, meetings, rehearsals and so on.." said Harun Tekin at the beginning of the conference. Harun mentioned that they would give a start rehearsals at the end of the March and he stated that they were planning to bring something fresh to the stage. 
Harun Tekin also declared that they would be undertaking the biggest promo ever, "We had the number between 5 and 15 countries to promo our song. Actually we have 22 countries in our list".
"We didn't know how to create an Eurovision song" said Burak Güven (group member), "We had no clue. So we thought 'Deli' would be the best choice." They also mentioned that they used to watch the contest when they were younger and the last show which they had watched was 2004 ,when Athena took part.
"We knew those people before" said Kerem Özyegen (group member) and Harun Tekin in response to the media's curiousity about the crew, "We used to work with Okan and Beyhan succesfully before and we met with Ümit with advises from vision director Aziz Soner. The sense of homour in the team was very important for us."
At the end of the conference they both showed their attitude toward Eurovision by stating "We don't think about any failing about the contest. Our success will come true if we can do everything that we planned but of course, it's a contest. It's like a festival but only a TV programme."
Links
In my view
It seems they are very optimist about their Eurovision mission judging by their conversations. We will see what they will bring us with their video and what they can manage to do on stage, but this is a real contest in which they will need luck.

The opinion expressed in "In my view" are those of the author and are not necessarily the one of EuroVisionary.com.