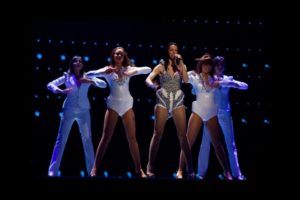 The rehearsals moved into another gear this morning, as Poland became the first country to appear on stage again.  A vastly improved performance gave us the perfect start to another day.
Magdelena had had a few problems with her first rehearsal.  Being on first is never easy, as the broadcaster often has to make a few technical adjustments.
This second rehearsal was much better – we had four runs through of the song, and each one was an improvement on the previous one.  The performers were all in costume today, and will be wearing combinations of white and silver.  Camera angles will need a bit of work, and there was much deliberation from the Poles as to what these should be.
This will be a great way to open the first semi-final next week, and should grab the audience's attention enough to vote for it.
In my view
I've always had this one down as a qualifier.  The first rehearsal made me wonder a little, as it was very below par.  But Magdelena's improved considerably, and it's now back in the frame.

The opinion expressed in "In my view" are those of the author and are not necessarily the one of EuroVisionary.com.