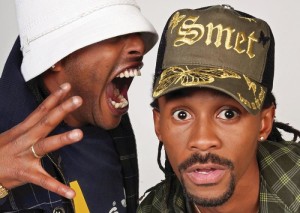 If there's one thing that made the biggest impression on viewers of the Eurovision Song Contest 2010, then it could well have been the amazing interval act featuring the song Glow by Madcon. It is now making it to charts around Europe. 
Speculation was huge among the public and press alike as to how NRK would be able to equal the spectacular interval act from last year's show in Moscow. NRK, in cooperation with the production team ELEMENT, successfully managed to capture a zeitgeist and introduce an act with an extremely contemporary feel this year. Never before has an interval act in the Eurovision Song Contest actively involved so many viewers simultaneously.
Whether Lena will remain the sole victor of this years contest in terms of record sales remains to be seen. At the time of writing, Satellite is making a significant impact on the European sales charts but Madcon are also gradually starting to make their appearance on various national charts, giving the winner a run for her money.
Madcon were perhaps an unknown name to many, but do in fact have a huge pan European hit under their belt from 2008. Their version of the old Isley Brother's classic Beggin', was a major hit in Germany and France among many other countries. So could we be looking at the worthy successor to Riverdance in terms of broad public appeal? The outlook seems very promising indeed for the urban Norwegian duo as Glow debuts at #2 on the Norwegian charts, #1 on the German iTunes chart, #12 in the Republic of Ireland, # 50 in Spain and #70 in the UK, a notoriously difficult market to crack.
Links
In my view
It may be just a matter of weeks before the Glow and flash-mob dance effect starts to register across the continent. The Black Eyed Peas brought the craze to new heights and huge commercial success in N. America; could Madcon be the initiators of a similar trend here in Europe? Regardless of whether Glow proves to be a major commercial success, the interval act was undoubtedly a shot in the arm for the contest, bringing it bang up to date and even heightening the popularity of Europe's most enduring music contest.

The opinion expressed in "In my view" are those of the author and are not necessarily the one of EuroVisionary.com.