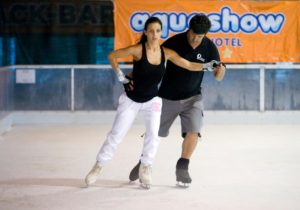 Luciana Abreu will dance, sing and perform on ice in this show based on a fun and adventurous story with monsters, treasures, magic formulas and of course a flying carpet. It will take place during the months of November and December at the Rivoli Municipal Theatre in Oporto, Portugal.
Luciana Abreu represented Portugal at the 2005 Eurovision Song Contest as part of the pop-duo called 2B alongside Rui Drummond. They performed the song Amar, but failed to make it to the final placing 17th in the semifinal. In 2009 she was among the favourites to represent her country once again this time as a solo singer with a song written by herself titled Juntos Vamos Conseguir (Yes We Can). However, she came third in the national final winning the televoting, but achieving very few points from the juries.
After her participation at the Eurovision Song Contest, she is well known in Portugal by her character in the most popular Portuguese soap opera Floribella. Soon afterwards, she became hostess of the television show for kids called Lucy and she won the Portuguese version of Strictly Come Dancing.
Now, she is involved in this new project that will be a great challenge for her as this fabulous show features a talented young cast. Among those we find public figures such as Luciana, who will be Princess Jasmine, besides skaters, gymnasts and actors. At the rehearsals, she looks very comfortable on the ice rink and she is delighted with this new project. She has been training hard during the last three months and, as it approaches the premiere date, scheduled for November 14th, Luciana intensifies the training sessions for this show created by Miguel Coelho and Paulo Sousa Costa with the collaboration of the companies Palco Partilhado and Yellow Star.
This is one of the most beautiful love stories from The Arabian Nights. The poor boy Aladdin dreams of marrying a beautiful princess, but unfortunately, there are also other men who want to marry her. One day, Aladdin is taken to an enchanted cave, where he finds something that will change his life forever, something so powerful and magical that will be coveted by an evil character who will do anything to trick Aladdin.
What follows is an extraordinary adventure through a world full of action and fun, where the stage becomes a fantasy world, where music, light, color and magic combine in a beautiful and harmonious show which is full stunning acrobatics and the highest-quality figure skating staged to enhance the classic Middle East ambiance.
If you want to see Aladdin, Princess Jasmine, the evil wizard and genius of the lamp, as you never saw them and take your family on an unforgettable journey into an exotic far away land, you can do it from the 14th of November to the 16th of December at the Rivoli Municipal Theater in Oporto. The tickets are available in the theater or online and the prices range at 15 and 10 Euros.