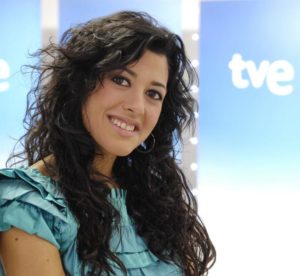 Lucía Pérez has been officially presented yesterday morning at a press conference in Madrid. She has shared her impressions after her election as representative of Spain in the 2011 Eurovision Song Contest. The Galician singer will perform the song Que Me Quiten Lo Bailao by Rafael Artesero.
The audience of Destino Eurovisión, with the 68% of the votes, decided last Friday that Lucía Pérez and the song Que Me Quiten Lo Bailao was the combination chosen to represent Spain in the 2011 Eurovisión Song Contest. This singer from Galicia, who was the favourite since the semi-final, won the victory, ahead of the boy-band Auryn and the soloist Melissa, with the performance of this cheerful song, full of positivity and with a catchy chorus composed by Rafael Artesero.
Lucía has been the main protagonist of the press conference. She said that, although the song is not the style that she used to sing, she is very happy and she is feeling more confident with the song day after day.
Lola Molina, Director of Programming and Content at TVE said that they are very satisfied with the result because there were a high level among the candidates and now they have chosen a great artist.
Lucía is already beginning to prepare herself for her main objective: to captivate European viewers in the 56th edition of the event. In the coming days, Lucía will record the final version of the song and the video that will be her cover letter to Europe. Now there are two months of hard work and she hopes that it helps her to bring Spain to the top of the scoreboard in the 2011 Eurovision Song Contest.
About Lucía Pérez:
She is a music lover since her childhood. When she was a little girl, she used to participate in a lot of song contests and, usually, she won.
At just 17 years old, she won the Galician Television contest Canteira De Cantareiros and that's when she recorded her first album Amores y Amores (2003). In the spring of 2005, she won the first price of the contest Disco-Pop de Solistas Gallegos and then she released her second album called El Tiempo Dirá. A few months later, she was the Spanish representative in the International Song Festival of Viña del Mar in Chile with the song Que Haría Contigo, which got the second place.
Her third album, Volar Por Los Tejados, was released simultaneously in Spain and Chile in 2008 and it was promoted by Lucía throughout the country. Early last year, she published her fourth album, Dígocho En Galego, recorded entirely in Galician.
Parallel to her artistic activity, Lucía Pérez studied music theory and classical guitar and she has finished her studies to be a music teacher. Apart from that, she has won several awards in her homeland for her contribution to the spread of the values of her region.
About Rafael Artesero:
He has had a prolific professional career with more than 200 compositions. This composer from Bilbao is a huge fan of the Eurovision Song Contest and, for years, he has dreamed that one of his songs could be performed by the Spanish representative. In fact, in this edition, three of his songs were among the 20 semi-finalists selected by TVE.
More than fifty singers from 21 countries have recorded his songs in 11 different languages and his compositions have been performed in several national and international festivals. For example, he composed La Reina De La Noche in 2007 and he was responsible for the 2005 and 2006 Andorran entries with La Mirada Interior and Sense Tu.