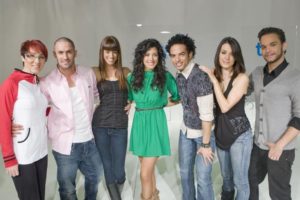 The Spanish representative will be in good company with five backing dancers who will help her to spread the joy of Que Me Quiten Lo Bailao. The staging has been designed by the renowned choreographer Lola González. If the song is catchy, no less so will the choreography be.
Lucía Pérez is rehearsing her staging for the Eurovision Song Contest with the team of backing dancers who will be going with her to Düsseldorf. Lola González is a versatile choreographer who has worked for several television programs, many fashion shows and events and this time, she is the choreographer who has created the dance routine for Que Me Quiten Lo Bailao. She said that it will be full of happiness and positive energy and it will be soon danced by all the European viewers.
On stage, besides Lucía, there will be five backing dancers, most of them well known faces for Spanish audience. They are:
Cristina Domínguez has studied ballet, jazz, modern dance, hip-hop, acting and singing. With a short but eventful career, she has competed in the highest categories of ballroom dancing and she has worked as a dancer and singer in several TV shows.
Sandra Borrego has studied classical ballet, modern dance and tap dance and she has worked as a dancer in several television programs and musical shows as Hello, Dolly or Mamma Mia.
Amaury Reinoso is a young actor, singer and dancer from Cuba who has developed his professional career in very different artistic styles. He has been working for musical shows like Fame where he played the main character.
Ginés Cano got his opportunity thanks to the popular Spanish talent show called Fama, ¡A Bailar! which he won. This has given him the opportunity to be on stage accompanying great singers like Rihanna, Shakira or Marta Sánchez.
Juan Francisco Solsona Nito has studied in London, Paris, New York, Los Angeles and Switzerland in different fields such as hip hop, salsa, jazz and acrobatic rock and roll. He has also participated in the young talent TV show ¡Fama, A Bailar!
A part of the choreography is available to watch online. You can see Lucía and her dancers rehearsing in the video below: