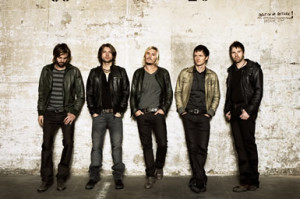 The Swiss pop & rock group, Lovebugs, finally announced the participating song for Moscow, The Highest Heights. Swiss broadcaster SF announced in January that the Swiss group, Lovebugs, will be representing Switzerland in the Eurovision Song Contest 2009 in Moscow.
It has been announced that the song, which is the name of the lastest album, The Highest Heights, will be the participating song for the group at the Eurovision Song Contest this year in Moscow. The group Lovebugs was set up in 1992 and consists of 5 members:
*Adrian Sieber: vocals
*Thomas Rechberger: guitars
*Stefan Wagner: keyboards 
*Florian Senn: bass 
*Simon Ramseier: drums
The group has released 10 albums since 1994, of which three reached the No.1 spot in the official Swiss album charts. Their new album, The Highest Heights was released today. The Highest Heights brings all the bands strengths' to the fore: "the melody, the energy, the thriving beats, spherical guitars and keyboards and the melancholic mood," the singer Adrian Sieber said to the Swiss newspaper 20 Minuten.
The song will also be at the radio stations tomorrow and will be available as a two-track in the stores on March 20, 2009.
Last year, Switzerland were repreented by Paolo Meneguzzi, who participated with his song, Era Stupendo, in the Eurovision Song Contest 2008 in Belgrade, he didn't make it to the final. This year, Switzerland is participating in the first semifinal of the Eurovision Song Contest 2009 on 12th May. 
The group has already released the songs from The Highest Heights on Myspace. You can also visit Lovebugs Myspace page clicking here. You can also listen to the The Highest Heights with the live performance below:
Links