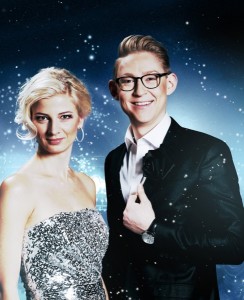 After Felix Smith earlier this autumn decided to change jobs Danish broadcaster, DR, was forced to find two new hosts for next year's Dansk Melodi Grand Prix. Today they announced that it will be Louise Wolff and Emil Thorup to guide people through the national final that takes place on the 21st of January 2012.
DR had several constellations in mind when looking for the perfect duet to hosts the 2012 Dansk Melodi Grand Prix, but at the end it ended up with Louise Wolff and Emil Thorup being picked for the task.
Louise Wolff is an experienced radio and TV host. On TV she has experience from Aftenshowet, an evening show where a mix of famous and unknown people are in the studio to talk about a subject related to them, but also from Sporløs, where she travelled around the world trying to bring people in touch with a relative they never met before. 
Emil Thorup first was on TV as assistant in a talkshow called Aloha, but is mainly known for the programme called Sexministeriet on DR's youth channel DR Mama, where he talks about sex and love from the perspective of the young ones.
DR's entertainment cheif Jan Lagerman Lundme says about Louise and Emil: "Their connection was almost magic. They have a rare chemistry, which makes them wonderful and funny together. I can guarantee a fun evening in the company of Louise and Emil and a lot of catchy songs, where one of them shall give us the victory in Azerbaijan".
It was expected that Felix Smith would have been hosting the Danish final again in 2012 like he also did in 2008, 2009 and 2010, but not long ago he surprisingly decided to quite his job at DR.
The 2012 Dansk Melodi Grand Prix will take place in Aalborg on the 21st of February and one week later the Danish junior show will be hosted from the same venue.