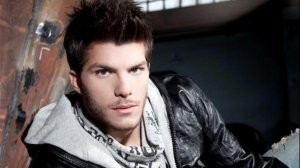 Moments ago the Greek TV viewers in combination with a jury decided that it is up to Loucas Giorkas feat. Stereo Mike to try to bring home the Eurovision Song Contest trophy to Greece. They managed to beat five other contestants in the national final where performances from the participants from Cyprus, Malta and Bulgaria appeared as guest stars. 
All six participants in the Greek final knew in advance how it was like to compete in a music competition as they all made their first appearance in either X-Factor or Idols. After winning tonight's national final Loucas Giorkas feat. Stereo Mike will now move on to the Eurovision Song Contest where first job is waiting on the 10th of May.
The songs:
Kokkina Halia – Come With Me
We start out with a rock band with the leadinger dressed in black trousers, a white t-shirt and a black jacket with blank spikes on the shoulders. This song is something completely than what we have seen before from Greece. This is more what we would expect from f.ex. Turkey.  
Valando Trifonos – The Time Is Now
Valando is dressed in a long white dress, almost a wedding dress outfit as it has a long sleeve to it. It is a ballad, which again doesn't quite match with what we are use to from this country. It is beautiful though and could certainly pull home a good result, but many will think it is more like a United Kingdom entry. Are they perhaps picking songs for other countries instead? 
Triimitonio – Hamogela
This band is like the Greek version of the Swedish band Ark. They uses three drum sets all with a blue smiley on. The song has quite some similarity to the Ukrainian entry from 2005; Razom Nas Bahato by GreenJolly, just a little bit faster.   
Antigoni Psyhrami – It's All Greek To Me!
She is dressed in black lingeri and so is her four female dancers. This song basically setting topic of tonight will probably appeal to me. The song is once again a song that doesn't sound Greek at all. This would have suited a country like Ukraine better. Ani Lorak would like it.  
Loucas Giorkas feat. Stereo Mike – Watch My Dance
This performance starts with some gymnastic jumps over a red table. One of the two singers keeps standing on top of the table with the other one being on the floor. Three male dancers continues their gymnasitic moves over the table. 
Nikki Ponte – I Don't Wanna Dance
Last of the songs are Nikki singing in a black short dress. She has four male dancers with her dressed in a black and skin coloured jumpsuit. The song is the one most sounding – and looking like – a Greek entry. No wonder why she is the favourite by many to win.  
The show:
The show, that has been cut in budget due to ERT's financial problems, opened with a drum act and after the introduction of the jury the participants found together in a an a-capella song to show what they had to offer tonight only with a drum to accompaign them.
Where other countries in their national selection just have showed short clips from Lena's victory ERT actually show the entire German winning performance from last year as indication of why we are going to Düsseldorf in May.
Greetings from a few of the participants in this year's Eurovision Song Contest is shown on video ending with Sakis Rouvas also wishing good luck. He represented Greece in the 2004 contest with the song Shake It, that came third.
In tonight's show we also saw a performance from the group "pigs". Anyone seeing the show will reconise them from one band member having a pig head on.
Cristos Mylordos, who will be representing Cyprus at the Eurovision Song Contest performed his entry San Angelos S'agapisa. We also saw performances from Glen Vella singing his One Life, the song that will participate for Malta, and Na Inat by Poli Genova from Bulgaria. After the last performance the guys might have paid a bit more attention as the female host of the show was totally on to Poli, undressing her with her eyes and always trying to discret touch her! She didn't do that to Glen or Cristos… if the host isn't Lesbian she would have something to explain after that as it was too obvious.
Before we were ready for the result we saw an a-capella medley of My Secret Combination (Greece 2008), My Number One (Greece 2005), Shake It (Greece 2004) by a guy sitting on a bench. He was then replaced by the drummers from the intro this time added a saxophone. They perform an instrumental version of last year's Greek entry, OPA.
The result:
The outcome of tonight's final was decided in a 50/50 combinination with a jury and the Greek TV viewers. The voting started after all songs had been performed and lasted 20 minutes.
And the winner is…. Loucas Giorkas feat. Stereo Mike with the song Watch My dance.    
Greece will compete in the first semi-final on the 10th of May. They have not yet failed to miss the final and for the past seven years always achieved a top 10 position including their 2005 victory; My Number One by Helena Paparizou.