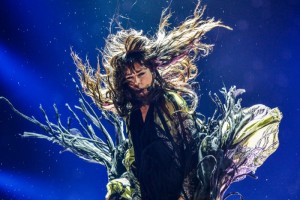 After bringing home the Eurovision Song Contest trophy to Sweden, Loreen is busy touring in her home country this summer, but the studio work takes up time as well with her debut album scheduled for release in October this year. 
She was the top favourite this year so that Loreen won the 2012 Eurovision Song Contest came as no surprise, though it might have been a bit more convincing that predicted. After that her winning entry Euphoria went number 1 on the charts in 11 countries. In comparison other big winners like Alexander Rybak's Fairytale (2009) and Lena's Satellite (2010) "only" managed seven countries. 
During the next few months quite a lot of concerts in Sweden is scheduled and one performance in Belarus, but it won't be all Loreen will be doing. Her debut album is planned to be released on the 10th of October. The title and a track list has not been published yet, but fans should be able to count on it to include her Eurovision winning song Euphoria. EuroVisionary will keep you updated about that album once more information is available.
Loreen's summer tour 2012:
27/06 – Karlskoga Festival
28/06 – Borås
29/06 – Västerås City Festival
29/06 – Gatufest, Enköping
30/06 – Kirunafestivalen, Kiruna
07/07 – Gatufesten, Sundsvall
10/07 – Allsång på Skansen
12/07 – Belarus
13/07 – Hasslöfestivalen, Hasslö
14/07 – Grattis Kronprinsessan Victoria
20/07 – Fallens dagar, Trollhättan
21/07 – Vattenfestival , Orsa
22/07 – The Rockoff Festival, Mariehamn
26/07 – Helsingborgsfestivalen, Helsingborg
27/07 – Motala Parken, Motala
27/07 – Hudikkalaset, Hudiksvall
11/08 – Efterfest, Ludvika
16/08 – RIX FM Festival – Norrköping
19/08 – RIX FM Festival – Göteborg
24/08 – Eksjö stadsfest, Eksjö
Below you can see our 3D video of Loreen's performance at the Eurovision Song Contest. We recommend that you watch it with a pair of suitable glasses, but if you don't have any this feature can easily be turned off in the player below for regular 2D video.