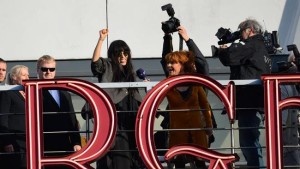 As mentioned in our article yesterday, Loreen took to rooftop of Hötorget in Stockholm for a special broadcast on SVT 2 from 19:00-19:30 CET as a welcome home for the Swedish delegation. She performed two versions of Euphoria and gave thanks for the crowd.
Loreen made a special public appearance between 19:00-19:30 for a special broadcast on national Swedish television as a welcome home for their hero, Loreen, who has won the contest for them for the first time in 13 years. She entered the stage which was on top of the Sergel Cinema in Haymarket with "I love you so much".
Along with the 2 performances of Euphoria, Loreen was also asked questions about speculation around the 2013 Eurovision Song Contest. All questions were re-directed to Christer Björkman who stated in overall, "We will make it a popular celebration of Swedish spirit where all are equally worthy." This could be a dig to Azerbaijan's latest controversy about the countries human rights and not being equal, however it seemed more of a peace statement.
Loreen finished both performances with "This I take with me for the rest of my f**king life", pointing to the sea of crowds below her.
Sweden's previous winner, Charlotte Perrelli took part in Melodifestivalen 2012 against Loreen and was beaten. Loreen is clearly one of the new Eurovision Queens for Sweden along with Carola and Charlotte Perrelli, formerly Nilsson.