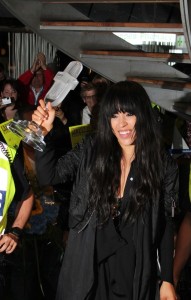 Almost 48 hours has passed since Swedish Loreen Talhaoui won the 57th edition of Eurovision Song Contest with the song Euphoria. Tonight Loreen returned to Sweden where hundreds of fans wanted to celebrate the hero who brought the Eurovision Song Contest trophy back to Sweden for the first time in 13 years.
Two JAS airplanes met and escorted the flight from Baku/Vienna carrying the Swedish star, to it's final destination, Arlanda Airport. On the ground, the plane was showered by water fountains and foam. In the arrival hall Swedish fans and journalists anxiously awaited to celebrate Loreen. It was a little bit chaotic from time to time as everyone wanted to get a glimpse of the new star.
Loreen herself seemed very surprised by the attention at the airport, but as the humble person that she is she stayed and talked to the fans for quite a while. There was a lot of pictures taken of Loreen together with the fans and some had also brought flowers to show their appreciation and Loreen thanked all of them with a hug.
Loreen says that she hasn't really taken in that she won the Eurovision Song contest yet and that it probably is going to take a while until she does. At Arlanda she told the gathered fans and journalists that she now will start working on her new album and prepare for her summer tour. Before she left Arlanda to go home and get some valuable sleep she turned to the fans and said "Thank you all for coming, I love you!"
Tomorrow night Loreen will be at a rooftop at Hötorget in Stockholm from 19.00-19.30 CET. The event will be broadcasted live at SVT 2.
Below you can see our 3D video of Loreen's Euphoria.