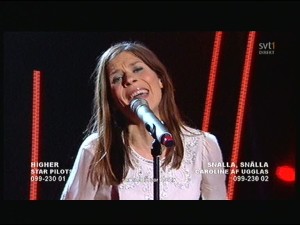 After tonight's second chance heat, Sarah Dawn Finer and Caroline af Ugglas are through to the final after winning all of their battles. The choice of the international jury was Sofia and her song Alla. This means that the line-up for the final of Melodifestivalen is now complete.
The Eight acts competing tonight were:
1. Sarah Dawn Finer – Moving on
2. Scotts – Jag tror på oss
3. BWO – You are not alone
4. Lili & Susie – Show me heaven
5. Star Pilots – Higher
6. Rigo & the Topas Sound feat. Red Fox – I got u
7. Amy Diamond – It's my life
8. Caroline af Ugglas – Snälla, snälla
Below you can watch our live coverage which started at the beginning of the show.
–coveritlive-153f12b50f