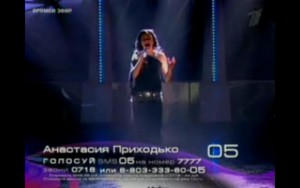 Sixteen acts tonight fought for the honour of representing Russia on home ground at the 2009 Eurovision Song Contest. Who took over after the successful Dima Bilan? EuroVisionary brought you live updates from the show.
The 16 participants are: (All songtitles translated to English)
Aleksa – Stop Thinking Of You
Breakdown – Breakdown
Valeria – Back To Love
Alexey Vorobyov – Heart Hunting
Venger Kollektive – 9 O'clock Moscow Night
Polina Griffits – Love Is Independence
Quatro – Love You
Thomas Kristansen – One More Try
Avenue Princess – Never, Never…
Tim Rox – The Happiest Man
Anna Semenovich – Love Lovila
Nikolay Fokeev – You Can Stop The Time
Plazma – Never Ending Story
Nano – Triator
Unisex – Hey-hey-hey
Anastasia Prikhodko – Mama
Below you can follow our live update as soon as the show starts.
–coveritlive-9c0d956299-
Anastasia Pridhodko has won the Russian National final with her song Mama. It's known that Anastasia failed to participate at the Ukranian national final this year before submitting her song for Russia. She is well known in Russia as she won Pop Idol there. Anastasia's song is in the Ukrainian & Russian languages for now. It's not confirmed what language Anastasia sing in at the final of the Eurovision Song Contest 2009. For more information, stay tuned to us.
Russia won the Eurovision Song Contest last year with Dima Bilan's Believe. You can watch the winning performance of Mama below: