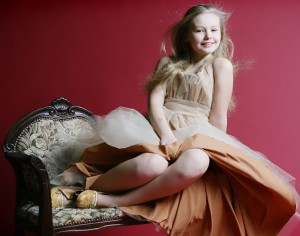 This weekend the national selection to choose the Lithuanian representative at the Junior Eurovision Song Contest took place. Despite not winning the televoting, which was won by Milita Daikerytė, Paulina was the favorite of the jury and she won the final with the song called Debesys.
Live from LRT's studios in Vilnus, the show featured eleven participants and it was hosted by Ignas Krupavicius and ten-year old Dominykas.
Below, you can see the participants of the competition in the show running order:
1. Group Štai – Geros dienos (Have a nice day)
2. Dominykas Kovaliovas – Kodėl? (Why?)
3. Agnė Lukaševičiūtė – Balti sparnai (White wings)
4. Gabrielė Rybko – Beždžioniukai (Little Monkey)
5. Dorotėja Kravčenkaitė – Aš skrisiu (I will fly)
6. Daumantas Bagdonavičius – Namai (Home)
7. Paulina Skrabytė – Debesys (Clouds)
8. Laura Kastanauskaitė – Mano šokis (My dance)
9. Bernardas Garbačauskas – Namo (Home)
10. Ieva Binevičiūtė – Pasilik (Stay)
11. Milita Daikerytė – Degu ritmu (I have such a rhythm)
The selection had two rounds: a main round and a superfinal. The top three from the main round Bernardas Garbačiauskas, Paulina Skrabytė and Milita Daikerytė, which were decided by televoting and the jury,  progressed to the superfinal. The expert jury consisted of Jonas Vilimas, Asta Einikytė, Eglė Nepaitė, Donatas Montvydas, Artūras Novikas, Edmundas Seilius and Kristina Zmailaitė.
After this first round, in the superfinal, Milita who already participated in last year's national final was considered the hot favorite. The jury members had to choose one of the three finalists and the luckiest was ten year old Paulina who won the ticket to Yerevan in the Lithuanian selection.
During her performance, Paulina had three baking singers and a pianist. She wore a colorful dress that looked like a landscape with the blue sky, green grass, red flowers and a yellow sun. Her song Debesys, which translates to "Clouds", is a romantic ballad sung in Lithuanian and written by herself along with Mindaugas Lapinskis.
You can view Paulina's performance below: