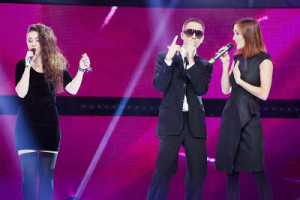 Last Saturday the Lithuanian broadcaster, LRT, started its national selection for the 2013 Eurovision Song Contest and this weekend has been broadcast the second presentation show where another sixteen acts were introduced to the audience.
This is the second presentation show of ten shows in total leading up to the Eurovizijos final in late December. The sixteen acts were not singing their own entries but cover songs from other artists and, just as last week, there were no voting elements at this stage of the process.
Once again, local humorist Andrius Rožickas hosted the show and this week's guest was Evelina Sašenko, the 2011 Lithuanian representative, who wearing the same dress she wore in Düsseldorf, sang her Eurovision entry C'est Ma Vie.
In this show we saw some familiar faces. Among them were Linas Adomaitis, who participated at the 2011 Eurovizijos where he achieved the second place in the final with the song Floating To You or Donatas Šimkus – Dūmas and the young rock band Alive Way from last year's national selection.
Below you can see the list of artists who performed in this show in running order and their songs:
1 Linas Adomaitis – Floating To You
2 Saulės Broliai – Lietaus Ašara
3 Sepa – Quit Drinkin
4 Gerai Gerai ir Miss Sheep – On The Radio
5 D'oro – Bésame Mucho
6 Eglė Jakštytė – Tu Nežinai
7 Freezing Kiss – Learn The Love
8 Božolė – Just The Way You Are
9 Giedrė Smolskaitė – Šalia
10 Donatas Šimkus – Dūmas – Opapa
11 Alive Way – Big City
12 Girmantė Vaitkutė – Listen
13 Glaam – Cruel Summer
14 Feliksas Merlin – Gyvena Ten
15 Andrius Pojavis – Traukiniai
16 Timohi – Grąžinkit Optimizmą
After this show we have already seen and heard all the hopefuls. The first qualification round will take place next week and will run for five weeks on consecutive Saturdays followed by two semifinals (scheduled for the 8th and 15th of December) and the final that will take place around Christmas time.