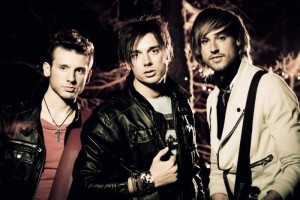 Wannabe heroes Litesound rehearsed at the Crystal Hall today in their bid for Eurovision glory.
Litesound were not Belarus's first choice for Eurovision,  but they've proved they're up to the challenge.
Their song has been rearranged for Eurovision improving it in the eyes of many watching.
They are a three piece band, but have been joined by three more members for the purposes of Eurovision.  These are a drummer, another guitarist and a male backing vocalist.
It was difficult to tell whether they were in costume, but all were wearing variations of white and silver outfits.
Our lead singer moves a lot around the stage, at one point heading down one of the catwalks.  The three main members have artistically designed microphone stands in front of them that look a little like stringed instruments.
The backdrop reflected the rocky theme to this song.  It had an industrial or mechanical feel to it – it enhanced the song but didn't intrude.
As mentioned above, this has gone down better than expected.  So we could be looking at Belarus's third appearance in the final.
Follow Belarus's path in Baku on Eurovisionary in a few days time when Litesound rehearse again.