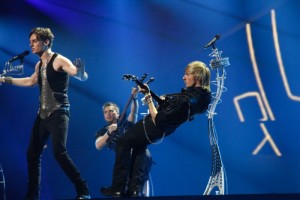 Litesound provided a unique and colourful show at the second rehearsal for Belarus today.  With the help of spectacular lighting and acrobatic type movements the band created a great show.
Litesound were dressed in black biker rider outfits.  There were three guitarists and a drummer on the stage as well the lead vocalist.
The song begins with space like strobe lighting on the band. They are standing with silver microphone stands.
The song then takes off and the lighting is spectacular with multi colours.  The two guitarists make a unique movement leaning backwards and appear to float in the air.
Near the end of the song the catwalk is used by the lead singer.
The overall stage performance is energetic and colourful.  This could make Litesound real heroes in Belarus and the rest of Europe.