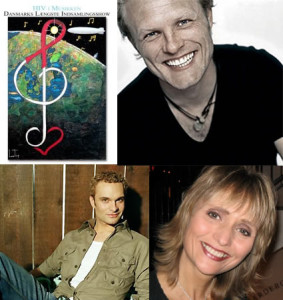 A charity event in Copenhagen in mid August will raise money for an HIV project in Uganda, Africa. Among the many performers are three former Danish Eurovision Song Contest participants, Lise Haavik, Thomas Thordarson and Jacob Sveistrup, and also several national finalist. 
The event titled "Danmark's Længste Indsamlingsshow" (Denmark's longest fundraising show) that takes place at the 14th of August in Copenhagen is arranged by HIV i Musikken (HIV in the Music) with the purpose to raise money for a special HIV project at the Victoria lake in Uganda where a sailing clinic will be able to help poor HIV affected located at the small islands at the lake. 
A long list of artists will perform in order to collect as much money for the project as possible. Among them are three former Danish Eurovision Song Contest participants and also three former particpants in the Danish final, Dansk Melodi Grand Prix:
Lise Haavik: Norwegian born Lise represented Denmark at the 1986 Eurovision Song Contest together with her Danish husband, John Hatting. The couple later split up, but back then they had quite a popular duo under the name Trax. Their '86 entry titled Du Er Fuld Af Løgn finished 11th. The duo had already participated in the Danish final in 1884 and 1985.

Thomas Thordarson: Danish-Icelandic Thomas won the Dansk Melodi grand Prix in 2004 with the latino inspired song Sig' Det Løgn. For the Eurovision Song Contest the song was performed under the English title Shame On You, where it failed to qualify for the final.
Jacob Sveistrup: Jacob represented Denmark in the 2005 Eurovision Song Contest and finished 9th with the song Talking To You. In the Danish final the song was titled Jeg Tænder På Dig.  
Annette Heick: Anette has participated twice in the Danish final; in 1991 in the duet Du Er Musikken I Mit Liv together with Norwegian Egil Eldøen and in 2007 solo with the self composed song Copenhagen Airport. As the daugther of Keld and Hilda Heick she has however grown up with the Dansk Melodi Grand Prix. 

Lotte Rømer: Lotte participated in the Danish final in 1986 with the song Dig Og Mig. The song didn't finish in top5 and as such was given a tied 6th place.
Allan Mortensen: As a part of the group Hans Mosters Vovse Allan participated twice in the Dansk Melodi Grand Prix. In 1980 they came 4th with Swingtime Igen and in 1981 they ended 2nd with the song King Kong Boogie. Both songs were written by Allan himself.