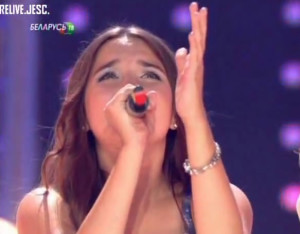 Lidiya Zablotskaya will represent Belarus at the 2011 Junior Eurovision Song Contest in Armenia with the song Angely Dobra (Angels of Goodness).  Lidiya was announced as the winner from the Belarus national selection where 10 junior performers battled to represent their country.
Lidiya Zablotskaya is 13 years old.  She won the most votes from a combination of jury and televoting.  The presenters of the show were Yuri Vashchuk and Kseniya Sitnik (the winner of the 2005 Junior Eurovision Song Contest).
The artists and songs competing in the national selection were –
1. Diana Tsekhovich Ya risuyu
2. Lidiya Zabolotskaya Angely Dobra
3. Alexandra Drozdova Pesnya Krasnoy shapochki
4. Masha Novik Solnechnaya pesenka
5. Veronica Sokolovskaya Karnaval
6. Alexei Kuzmin Bud' soboy
7. Valery Ziborov & Yana Fedorova Pesnya dlya dvoih
8. Daria Atroshenko A-a
9. Ana Zaitseva Moim druz'yam
10. Egor Zheshko Solnechniy ostrov
The interval was made up of former Belarus Junior national finalists who had finished in 2nd position.  These were Irina Kulagina, Mikhail Lila, Nikita Zhurovich, Diana Gromova (who performed Firework by Katy Perry) and Zlata Larchenko.
Lidiya is from Mogilev in Belarus.  She has already participated in many festivals in her country and also finished in 4th place in last year's Belarus junior national selection with the song, Privet.
You can see Lidiya's performance of Angely Dobra below.