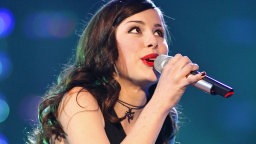 Tonight the final of Unser Song für Deutschland was held in Cologne. Lena performed six songs which received the highest amount of votes during the two semi finals. Finally Taken by a stranger was chosen as the German entry with 79% of the votes.
The show was again presented by Sabine Heinrichs and Matthias Opdenhövel and this time broadcasted by the ARD. At the beginning the hosts explain that there would be two rounds of voting. During the first one two songs will be chosen which will compete against each other in a super final.
After a short talk with Stefan Raab a review of last year's Unser Song für Oslo and Lena's success in Oslo is shown before Lena enters the stage. They talk about the huge success of Lena's new album Good news which contains all 12 songs of Unser Song für Deutschland. The album is currently #1 in the German album charts and has already reached gold status.
Beside Stefan Raab tonight's jury consists of Adil Tawil and Barbara Schöneberger. Adel Tawil is one half of the very successful German band Ich + Ich who already had several huge hits. Barbara Schöneberger is multitalented. She works as presenter, entertainer and even as a singer in the German television.
The songs:
1) Maybe (Daniel Schaub & Pär Lammers)
Maybe is a very catchy midtempo pop song. In the short video before the song started Lena says that she likes especially the part "oops I forgot" because this suits to her as she often forgets things. Lena wears a short black dress and has lots of fun on stage.
Jury:
Stefan thinks the song is catchy and he especially likes the verses. Barbara says the song is nice and catchy, but she thinks it is nothing special which could impress other countries. Adel agrees and thinks it might be too inconspicuous.
2) What happened to me (Lena Meyer-Landrut & Stefan Raab)
This song is more uptempo and again very catchy. It can easily be seen that Lena loves her self-written song. She dances around and smiles during the whole presentatition. This time she is dressed in a tight black dress.
Jury:
Barbara says that the songs heats up. The rhythm is very catchy and one recognizes that Lena likes the song a lot. Adel agrees with her and especially likes the arrangement of the song. Stefan only remarks that his favourite is still to come.
3) Push forward (Daniel Schaub & Pär Lammers)
This is the only ballad of the evening and the second entry of the authors Schaub and Lammers. The tune is very melodic and romantic. Before the song Lena told us that the song should originally be an uptempo song. Lena has changes again her clothes and wears a very elegant black long dress now. The song receives the biggest applause so far.
Jury:
Adel says the song was very well performed and has a catchy tune, but in his opinion it does not fit to a contest. Stefan agrees and fears that there could be too many ballads, so this song could DROWN. Barbara replies that the song is terrific, just wonderful and she would even listen to it privately.
4) Mama told me (Lena Meyer-Landrut & Stefan Raab)
Mama told me is tonight's second entry written by Lena and Stefan Raab. The song is very retro funk and 70s style – the style that Stefan Raab's songs are usually known for. The bigband in the background harmonizes very well with the song. Lena is accompanied by four female dancers on stage and wears a black jumpsuit. This is definitely her best vocal performance so far.
Jury:
Adel says it is a great song – a "real" Raab! This could be a favourite to win. Barbara likes it a lot and thinks the song could be very popular among the other countries. Stefan only says that this is still not his favourite. 
5) A million and one (Errol Rennalls und Stavros Ioannou)
A million and one is also a very catchy and happy song. The verses are more spoken than sung while the chorus is partly sung in head voice. Lena has again four dancers on stage who dance bare-footed around her and is dressed again in a black dress.
Jury:
Barbara thinks it is a wonderful song, but it might be too complicated for Eurovision. It was very well sung by Lena. Adel says the songs fits to Lena, but it might be too much Lena-style. He remarks that the international audience wants to see something new. Stefan says that the song shows a great variety of Lena's voice, but his favourite is still to come.
6) Taken by a stranger (Nicole Morier, Gus Seyffert und Monica Birkenes)
Tonight's last song is the favourite in most of the internet polls. The song is something completely different, very mystic, dark and a bit 80s electro pop with an interesting and constant beat. Lena is again accompanied by four female dancers who wear a different outfit than in the semifinal. This time they are completed dressed in silver, while Lena wears another black jumpsuit and green high heels. The song receives by far the biggest applause of the evening.
Jury:
This was Stefan's favourite. The song catches the audience, it is funky, courageous and revolutionary. Barbara and Adel agree with him. They think the song is spooky, strange and will probably go to Düsseldorf.
The jury is finally asked which songs they want to see in the super final. Barbara wants to see Taken by a stranger and Push forward. Adel's favourites were Taken by a stranger and Mama told me. Stefan only wants to see Taken by a stranger because he thinks Germany would have a big chance to score a very good result with this song.
The show:
After a reprise of all six entries a film is shown where Lena and Stefan Raab are on a sightseeing flight in a helicopter over Düsseldorf. We see the river Rhine, the Landtag (state parliament) of Northrhine-Westphalia, the old town and finally the Esprit arena where the Eurovision Song Contest will be held.
The superfinal:
The first voting round finishd. Push forward and Taken by a stranger received most of the votes and will compete again in the super final.
After the announcement we see a video mix of some of the so far known Eurovision entries: The Netherlands, Ireland, Switzerland, Romania and Norway, before Lena enters the stage again to perform the two songs of the super final. While the lines are again opened we can watch Adel Tawil performing Ich + Ich's latest hit Hilf mir (Help me).
The results:
Finally we see a graph which shows that Taken by a stranger received 79% of the votes. Lena will perform this song in the final of the Eurovision Song Contest in Düsseldorf on May 14th, 2011.