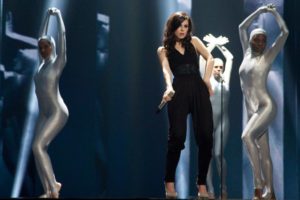 Lena just finished her second rehearsal and left a very good impression. When it was announced that she would represent Germany again, nobody thought she could repeat her success of Oslo. But does she manage to convince the European audience once again?
In contrast to yesterday's rehearsal nothing was changed except tiny things regarding Lena's outfit. Today she chose a black belt and sand-coloured highheels instead of the blue shoes and belt she wore yesterday. Vocally she came across better than yesterday and among the German fans you could feel the hope for a second victory. The dancing choreography was perfect again and fitted well to the dark backdrop showing some of the dancing we also see on stage.
Lena is very relaxed and cool. Between the rehearsals she just sat down on the floor making fun with her dancers. So everything is ready for a successful defence of her title. She will definitely be among the favourites.