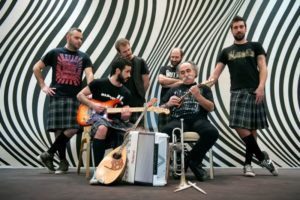 Fortunately, that was not quite the case… According to recent claims however, Greek entrants Koza Mostra and Agathon Iakovidis were on a very tight budget during their stay in Malmo. Soon after their return, reports of a €15 personal daily allowance for meals surfaced on the Greek media. But what did the artists themselves have to say about the matter?
Both Ilias Kozas, the lead singer of Koza Mostra, and Agathon Iakovidis remained dignified when commenting on the difficulties they allegedly had to face. They chose to concentrate on the positive side of their Eurovision experience instead. Ilias spoke of 'pleasant memories' as well as the chance for his group to receive publicity of a scale they had not experienced before. Asked whether he felt unlucky for representing Greece at a time of economic crisis, he replied: "There is no reason for feeling unlucky. It was an extremely important event even though we did not have the material support of previous delegations (…) there is no bitter aftertaste".
Due to the serious economic crisis in the country, there had been early calls, some made by members of parliament, for Greece to withdraw from the 2013 contest. In the end, ERT, the Greek state broadcaster, came to a deal with commercial station Mad TV and record label Platinum Records for the organization of a national final and the sponsorship of the Greek entry for Malmo. A few months later, Koza Mostra and Agathon Iakovidis received an enthusiastic reception for the performance of their song, Alcohol is free, and achieved a very respectable 6th place for Greece. Exceptionally high viewing figures – the Saturday grand final attracted a peak of 83% of Greek viewers- seem to further justify the ERT's decision to participate in the 58th contest.
Below you can see our 3D video of the 2013 Greek entry Alcohol Is Free. We recommend watching it in 3D to enjoy it to its fullest, but should you not yet have the suitable equipment, this can easily be turned off in the player for regular 2D viewing.  
In my view
It is fair to say that all this would not have been possible without the contribution of the sponsoring parties. However, there appears to be a case for re-examining the allocation of available funds so that future participants receive the support they need in their effort to best represent the country in the Eurovision Song Contest.

The opinion expressed in "In my view" are those of the author and are not necessarily the one of EuroVisionary.com.