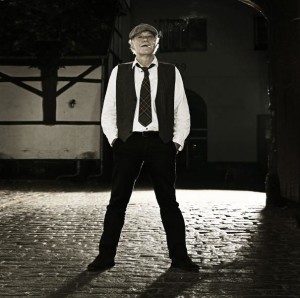 Since the early 70's Kim Larsen has been among the most popular names in Denmark with almost all of his albums being best sellers. However, he only came third in the Danish final in 1979. In October he will release a new album full of Danish children songs.
Kim Larsen started his career in the Danish rock band Gasolin which he co-founded in 1969. They released their first album two years later and ever since Kim Larsen has been among the best selling artists in Denmark.
Gasolin broke up in 1978 and lead singer Kim Larsen went solo straight after. He took part in the Danish national final, the Dansk Melodi Grand Prix, in 1979 with the song Ud I Det Blå (Out in the blue) that came third. For Kim Larsen himself it wasn't much of a disaster not winning the ticket to the Eurovision Song Contest. He later explained his participation like this: "I only took part in the hope that me and the boys could win a free trip to Jaffa, but now we will just have to go to Israels plads (The Israeli Square, located in Copenhagen) instead".
Up through the 1980's Kim Larsen established himself as a household name whose albums were to be found in almost all Danish homes. Since 1986 he has played with three different backing bands, Kjukken being the latest and longest running. Kim Larsen has been with them since 1995 and they are also involved in the new CD, the third and last album in a trilogy called "Glemmebogen" (book of the forgotten).
The first album in this trilogy was released in 2001 under the title "Sange fra Glemmebogen (songs of the forgotten book" and as the name reveals it contain older Danish songs which Kim Larsen wanted to give a rebirth for a new audience. In 2004 "Sange fra Glemmebogen – Jul og nytår" was released. It includes Christmas and New Year song. The 14th of October the new CD titled "Glemmebogen for børn" (Book of the forgotten for children) will be released. It contains 16 classic children songs, which Kim Larsen has treated carefully in respect for the original, but still added some of the unique minimalistic sounds used for the previous two Glemmebog editions.
Next to his singing career Kim Larsen has also used his talents in other ways. In 1984 he played the leading role in the massive success film Midt Om Natten (In the middle of the night), a film he also wrote the manuscript for.
Below you can watch a video of the performance from the Dansk Melodi Grand Prix in 1979.
Links