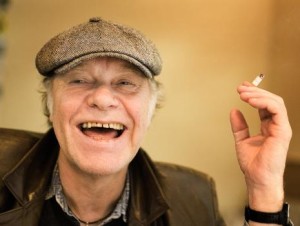 Danish national final runner up Kim Larsen continues his protests against the smoking ban. Together with other prominent singers such as Thomas Helmig, Johnny Madsen and Klaus Kjellerup, he has now recorded a protest song.
Kim Larsen has been criticised for his smoking ban campaign called "Gesundheit Macht Frei", which was inspired by an old nazi slogan. Despite the criticism, he continues and has now formed the band "Den Gule Negl" (The Yellow Nail). They have been in the studio and their song "Hold Dig På Måtten" (Best translated as "Keep the Straight Line") can now be found on their Youtube channel.
The band consists of well-known Danish singers such as Thomas Helmig, Johnny Madsen, Klaus Kjellerup and Kim Larsen. As such they are getting a lot of attention and more than 50,000 people have already seen the video on Youtube in just a couple of days.
The video can be seen below.