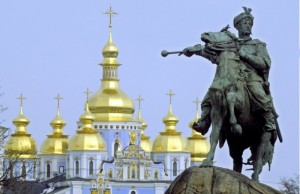 The Ukrainian capital has been chosen to host the 2013 Junior Eurovision Song Contest from all rest of the bids which were submitted. The experience that Kiev has in hosting EBU-UER events was a factor in their success.
After taking a look at every bid for JESC 2013, EBU-UER's reference group decided that Kiev will be the point where youth voices will fly the flag of each one of their countries. Due to the previous experience that Ukraine has hosting the Eurovision Song Contest 2005 and Junior Eurovision 2009, NTU was chosen as the host for this year's Junior Eurovision Song Contest.

Olexandr Ponomariov performed in Riga 2003 with Hasta la Vista. A year later, Ruslana won with her Wild Dances.Thanks to the victory won at the Bosphorus city, Kiev opened it's doors to Europe with GreenJolly performing Razom nas bahato in Kiev's Palace of sports.
Although Junior Eurovision offers an opportunity to young stars to represent their own countries, Ukraine had to wait for 2006, when Nazar Slyusarchuk performed Rock 'n' roll boy.Two years later, Viktoria Petryk was just nineteen points away of the victory, ranking at second position for the Slavic country. 2012 was the magic year for the Ukrainian hopes in Junior Eurovision, when Anastasiya Petryk with Nebo reached the glory with a victory of 138 points.