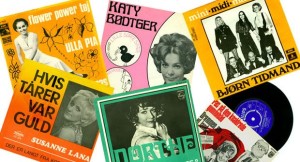 Keld Heick, who has written several Danish Eurovision Song Contest entries, is openly attacking DR for having blacklisted Schlager music. The attack falls together with the Danish Schlager music, the socalled Dansktop, celebrating its 40 years anniversary.
It was in September 1968 the Dansktop started. It was meant as an alternative to all the English language music the country was drowning in and it became popular almost immediately with the audience. The music critics never really accepted the genre due to its positive lyrics about summer, sunshine and smile. But according to Henrik Smith-Sivertsen, Ph.D in MusicSience then it is because the critics never really understood the genre: "It can and should not be analysed like songs by Bob Dylan and Leonard Cohen. The words just have to sound good when they are being song. The voice is an instrument just like synthesizers and horns, and when Keld Heick writes a text he thinks about which consonants and vowels the singer likes".
Henrik Smith-Sivertsen continues: "It is really good work, but not art. But its singers and songwriters haven't claimed so either. It is entertainment meant to make people happy, not a piece of art, which should challenge the listener's independent thinking".
The Dansktop music, which can best be described as a mix of Swedish and German Schlager music added some American country music, has previously been well represented among the Danish Eurovision Song Contest entries and its national final participants. Some of the most popular Dansktop musicians are names like Kirsten & Søren/Hot Eyes (ESC 1984, 1985 and 1988), Birthe Kjær (ESC 1989), Tommy Seebach (ESC 1979, 1981, 1993), Gitte Hænning (ESC 1973 for Germany), Gustav Winckler (ESC 1957), Raquel Rastenni (ESC 1958), Katy Bødtger (ESC 1960), Dario Campeotto (ESC 1961), Bjørn Tidmand (ESC 1964), Dorthe Kollo (NF), Teddy Edelman (NF) and Keld Heick who has written an uncountable numbers of songs for the Dansk Melodi Grand Prix, had 8 winning songs going all the way to the Eurovision Song Contest and achieved 3rd and 4th places for Denmark.
Keld Heick, who recently turned 60, is now attacking Danish broadcaster, DR, for practically having blacklisted the genre by not giving it airtime in radio and TV. To newspaper Berlingske Tidende he says: "If they play Dansktop? The hell they don't! They should be ashamed of themselves. I have been in a meeting with them where they have directly said that listeners above 50 – those who often listen to Dansktop – are not someone they care about at all!" Development chief in DR Ole Mølgaard doesn't understand Keld Heick's criticism and he claims that they do indeed play a lot of Dansktop music. He is however not willing to provide proof in terms of playing lists. Henrik Smith-Sivertsen places himself on the same line as Keld Heick: "I can't get it to be correct when DR says that they play a lot of Dansktop music. And it is not a type of music, which is popular among the DR- committees."
In the video below you can hear a mix of some of the most popular Dansktop hits over the years. The mix includes several Danish Eurovision Song Contest entries.