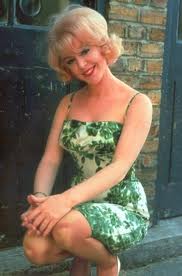 Fans today mourned the death of singer Kathy Kirby.  She represented the United Kingdom in the 1965 with I belong, coming second to Luxembourg's France Gall.
Kathy Kirby, born Kathleen O'Rourke in 1938, had been out of the public eye for a while, last appearing on television in the early 1980s.
Kathy's voice was recognised as something special from a very early age.  She became a professional singer aged 18, with a band fronted by dance band orchestra leader Bert Ambrose.  She adopted the 'blonde bombshell' look, first popularised by Marilyn Monroe.  Kathy had a string of hits in the mid-1960s, the most famous being a cover of the Doris Day song Secret love.
In 1965 Kathy was selected to represent the UK in the Eurovision Song Contest.  She performed all six songs in the final hosted by David Jacobs.  I belong was selected by postal vote, gaining over 110,000 votes.  In Naples that March, she eventually finished second to Luxembourg's France Gall and Poupée de cire, poupée de son, but ahead of a field that included Udo Jürgens.
Post Eurovision, Kathy continued to appear on British television and released more singles. During the 1970s her career went downhill when Ambrose died.  She was also declared bankrupt and suffered various health problems.  In the 1980s she retired from public life completely.  In 2008, a biography of her life was turned into a stage show.
Kathy Kirby died on 19 May 2011 after a short illness.  She lived alone, but was briefly married to Fred Pye in the 1970s.
Links