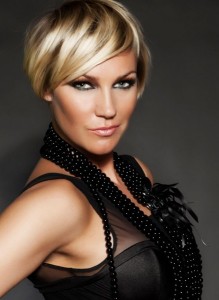 Following the recent release of her latest offering Electroshock, Kate Ryan gave an interview to Belgian daily, De Standaard, where she spoke of, amongst other things, both past and future participation at the Eurovision Song Contest.
According to the interview Kate Ryan gave, the launch of her newest album Electroshock was delayed by almost a year, hampered mainly by production issues between the artist and her record company. The singer is known to most for her covers of French language songs, but Ryan felt it was time for a change of direction, opting instead to make the kind of music she feels most at ease with, namely pop and dance music. Ryan has spent the last two years working on new material and feels now ready to give the likes of both Rihanna and Lady Gaga a run for their money. The star still enjoys considerable success not just in her native Belgium, but also in overseas markets such as Poland, Sweden, Spain and more importantly Russia. Things are also starting to move once more in Germany, something Kate Ryan is extremely thankful for.
When asked to comment on her domestic career, the ambitious artist had this to say: "I feel that it's a whole lot harder to prove myself as an artist here in Belgium. Perhaps my albums sound too international? Or maybe I spend too little time promoting my career at home? You have to keep busy or people soon forget who you are." Ryan swiflty moved on to the subject of her past participation at the 2006 Eurovision Song Contest with Je T'Adore, which caused one of the biggest upsets that year, when she failed to qualify. She spoke frankly about her experiences during her time as the Belgian entrant: "At the Eurovision Song Contest in 2006, I suppose I had begun to analyse my image, learning how to present myself on stage….major thing started to happen in all aspects of my life."
As mentioned earlier on Eurovisionary, Ryan's new album also has a Eurovision connection, namely in the guise of a duet with one time winner and former Swedish entrant, Charlotte Perrelli. This newest partnership gave De Standaard the perfect opportunity to broach the subject of another possible participation for Ryan. When asked directly about whether she would do it all again, she was suprisingly positive to the topic (bearing in mind her dissappointment and negative reaction in 2006): "When I didn't make the final back then, of course it was a setback for me, at the time it was a natural reaction. But the experience itself was invaluable. If either RTBF or VRT were to approach me again about future participation, I would be open to the idea, but it would have to be on my terms. I would want much more control this time around. When I entered Eurovision with Je T'Adore, I had a great act, but VRT suddenly wanted to make changes. Their intentions were good, but it left me feeling very uncomfortable. The whole of Belgium was so dissappointed."
In my view
Fingers crossed then, that RTBF are listening and feel it's time to take a chance on Kate Ryan once again. Following the poor results acheived by young starlet Iris in Baku this year, they've certainly got nothing to lose.  

The opinion expressed in "In my view" are those of the author and are not necessarily the one of EuroVisionary.com.