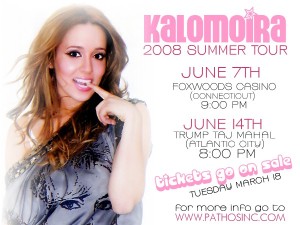 In June Kalomoira, the Greek representative for the 2008 Eurovision Song Contest, will perform in the United States. Time will tell if she comes up with any secret combinations on how to get a hit in the US.
Kalomoira will be performing at Foxwoods Casino the 7th of June and then at Trump Taj Mahal in Atlantic City on the 14th of June. The ticket sale for both events has just started.
Pathos Inc. who specialises in promoting Greek ethnic events in the United States has arranged the concerts. It is not the first time they are dealing with Eurovision Song Contest participants as previous concerts includes names such as Antique and Anna Vissi.
Links