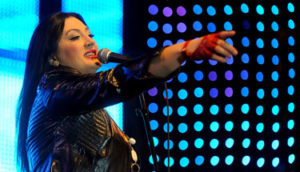 Days after the Slovenian song's selection, it is time for FYR Macedonia. Crno i belo is the chosen song to represent the Balkan state in Baku's Crystall Hall. Kaliopi will perform her entry at the second semi-final on 24th of May.
Düsseldorf 2011 was not an experience to remember for FYR Macedonian fans because the Balkan country did not qualify to the final.  That is why, MKRTV decided to choose internally their voice for Baku 2012. This year, the FYR Macedonian voice of Kaliopi will finally represent her country in Eurovision after many times trying to represent her state, even being in the qualifying round of Eurovision 1996 although she did not qualify good  for being at the final of the contest which was held in Oslo.
Kaliopi za Makedonia (Kaliopi for FYR Macedonia), was the program where Kaliopi has performed the premiere of her song Crno i belo (Black and White).The FYR Macedonian song, is an entry which is slow at the beginning but grows in rhythm to a rock type song. The first minute is full of a melody played with a piano, while later on, is a powerful song which finally relaxes it's rhythm at the last lines.
Kaliopi opened the show performing alone with a piano her song Ne placi, a song that makes shows her powerful voice and hopes to get a victory dreamed of by FYR Macedonian Eurovision fans.  After her opening performance, the Balkan hope sent a welcoming message to the audience to her show thanking for her chance to represent her country in Azerbaijan.
After her performance, there was a touch of humour by the FYR Macedonian television.  Later on, she performed Ako mi e got enor, alone at the stage.  After her performance, the special programme host gave a welcome to the audience in Macedonian and also in the English language.  Afterwards, some of the audience are interviewed, including a fan from Wales, giving their opinion about this year's representative for Baku.
After interviewing spectators, Kaliopi sings New Day, a jazz song in English language.  Later on, FYR Macedonia's TV broadcasts a musical video of the Balkan 2012 representative for Baku, performing Ave Maria.  After the video, the FYROM TV broadcasts a video of Kaliopi being interviewed by people who wish her all the best of luck for May.  As a curiosity, Kaliopi is dressed with the typical dress and dancing a typical dance of her country.  After commercials, the FYR Macedonian hope performs Alleluyah.  The next song she performed was Celi Abanje, a song with more upbeat tone.
After commercials, FYR Macedonian tv broadcast a promotional video about Azerbaijan inviting everybody  to visit the Land Of Fire.  Later on, Kaliopi performed Crno i belo, the song that she will perform at the second semi-final on 24th of May in Baku's Crystal Hall.
Kaliopi was chosen to represent FYR Macedonia in Eurovision back to 1996 with the song Samo ti (Only You).  Due the low score that she gained at the qualifying round, she could not take part at the final of Oslo 1996.
Nine years later, in 2005, the Balkan singer was one of the applicants for representing FYR Macedonia in Kiev.  Finally, she denied to take part of the national final due that she received non-official information about the selection process.  In that year, Kaliopi composed Se Lazam Sabe (Lying to myself), a song performed by Karolina Goceva (FYR Macedonia 2002 and 2007).
At the next year, Kaliopi composed a song for the Albanian Kënga Magjike with her song Jemi Te Huaj (We are Strangers).  The song was performed by Ledina Celo (Albania 2005).
Later on, in 2009, Kaliopi tried to represent her country in Moscow.  The song chosen for trying to represent the Balkan state was Rum Dum Dum by Kire Kostov, was performed in a duet with Macedonian folk singer Naum Petreski.  Kaliopi and Naum Petreski ended up overall in 2nd place with the majority of their support coming from the jury who, by a landslide, awarded them top marks. 
So, the tv show has been presented and we know what to expect from Kaliopi.  How will the rest of Europe like Crno i belo?