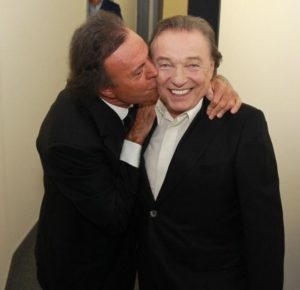 Spanish crooner Julio Iglesias is currently immersed in his European tour visiting nearly a dozen countries. A few days ago at a concert he gave in the capital of the Czech Republic the audience had the opportunity to enjoy an outstanding duet with another former Eurovision entrant, Karel Gott.
Julio Iglesias, who represented Spain at the 1970 Eurovision Song Contest with the song Gwendolyne, performed a great selection of his most popular songs offering a superb concert at the O2 Arena in Prague. As usual at every concert of the artist, he was greeted by a devoted audience with a standing ovation and he started the show singing his trademark song called Amor.
Halfway through the concert it was time to share the stage with the most successful male singer in the Czech Republic, Karel Gott, who represented Austria at the 1968 Eurovision Song Contest with Tausend Fenster. Together, laughing and joking, they sang the well-known song To All The Girls I've Loved Before.
This concert was part of Julio Iglesias' European tour that will continue throughout this summer visiting some Spanish cities. Below you can see the dates and places announced so far:
July 4th – Gran Teatre del Liceu (Barcelona)
July 8th – Palau de Les Arts (Valencia)
July 19th – Palacio Euskalduna (Bilbao)
July 26th – Gran Teatre del Liceu (Barcelona)
July 28th – Estadio Municipal Reino de León (León)
August 4th – Polideportivo Municipal (Los Alcázares, Murcia)
August 8th – Estadio de Gran Canaria (Las Palmas, Gran Canaria)
August 12th – Festival Starlite, Auditorio de Marbella, La Cantera (Marbella, Málaga)
He will also close the 2012 edition of the Monte Carlo Sporting Summer Festival with two exceptional concerts on the 17th and 18th of August in Monaco.
In the video below you can see Julio Iglesias and Karel Gott singing together in the concert that took place on June the 23rd in Prague.