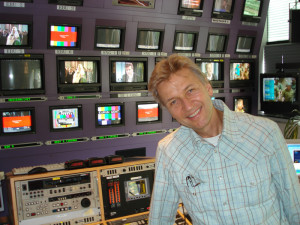 11 times hosting the Dansk Melodi Grand Prix and a total of 24 years as a commentator of the Eurovision Song Contest has made Jørgen De Mylius a legend in Denmark. Friday, at a music festival, he and Sanne Salomonsen shared an award for their dedicated work throughout the years. 
Denmark joined the Eurovision Song Contest in its second year, in 1957, but in 1966 the broadcaster, DR, pulled the plugged and withdrew from the international contest just three years after winning it with Grethe & Jørgen Ingmann's Dansevise. In 1978 the Nordic country decided to return to the Eurovision Song Contest – and one man got to play an important part in Denmark's relationship to the contest in the years to come. His name was Jørgen De Mylius. 
Jørgen has been hosting the Danish final, the Dansk Melodi Grand Prix, a total of 11 times and furthermore been commentator for the Eurovision Song Contest 24 times. He has also had his own weeky radio programme dedicated to Eurovision. 
A few days ago he was given the Polka Verner award at Skanderborg Festival, a prize he however will be sharing with Sanne Salomonsen, a household Danish pop and rocksinger, who to Eurovision fans will be known for her participating in the Swedish national selection, Melodifestivalen, in 2005. 
For giving Jørgen De Mylius the award the foundation says that "the joy about spreading music and knowledge about it since the 1960's has been his biggest trademark – combined with the rare ability to spot a good hit and a big pleasure of sharing it with the listeners and the viewers", and then they give examples of his work through the years and directly mention that hosting the Danish final 14 times and commenting the Eurovision Song Contest 24 times also is a part of it.
About Sanne Salomonsen they write that she "always generously has shared her talent and during her long career tried so many different genres – and always done it so solid that you were not in doubt that it was her singing".