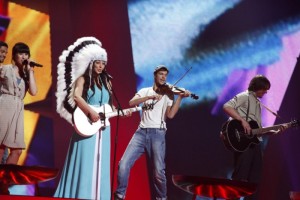 When Dutch singer Joan Franka performed in the second semi-final of the recently held Eurovision Song Contest in Baku she was affected by technical problems as she was unable to hear the best sound. The German crew behind it confirms the problem.
According to songfestivalweblog.nl the German crew who was hired for the technical part of the Eurovision Song Contest this year has confirmed that shortly before the second semi-final started they noticed a problem with the in-ear monitor. It was known that the problem would affect the slow songs with soft background music – and such a one was the Dutch entry You And Me sung by Joan Franka.
While the technical problem did affect Joan a lot as she had to spend the entire song searching for the best sound, she admits that she didn't do well herself: "I didn't sing my best. Sometimes you just don't have the voice fully under control."
The Netherlands haven't qualified for the final of the Eurovision Song Contest 8 years in a row now, but this year the Dutch really had high hopes for it to change. Joan finished 15th in the semi-final and only the best 10 countries qualified.
Below you can see our 3D recording of Joan Franka's You And Me from Baku. We recommend watching it with a pair of 3D glasses, but if you don't have your pair ready this feature can easy be turned off in the player below and watched in regular 2D.