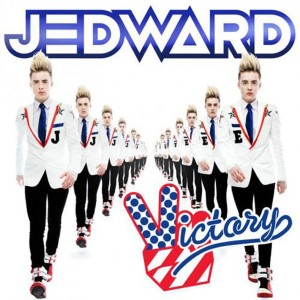 Second album from the energetic Irish twins, Jedward, has hit the stores in Ireland today. They will be signing the album in stores around the country up until the 15th of August where the album will be released in the United Kingdom.  
Jedward made themselves noticed in Düsseldorf where they represented Ireland at this year's Eurovision Song Contest. They finished 8th with the song Lipstick.
Their first album Planet Jedward was released in July 2010 containing cover songs from David Bowie, Backstreet Boys, Beastie Boys etc. It was then re-released internationally earlier this year only including four of the songs from the original album and seven from the Victory album.
Tracklist for Jedward – Victory:
Lipstick
Bad Behaviour

WoW Oh WoW

EveryDay SuperStar
Miss America

Get UP and Dance

Celebrity

DiStortion

Go Getter

PoP Rocket

Hold The World

Biggest Fan

Saturday Night

Techno Girl

Bad Behaviour REMIX
The first album recieved a lot of critical reviews in the Irish and UK medias with The Guardian giving it one out of five stars and The Scotsman two out of five. It still reached first position on the Irish chart and 17th on the UK one though. The re-release for the international market managed to become 17th on the Swedish chart, 51st in Germany and 53rd in Austria.