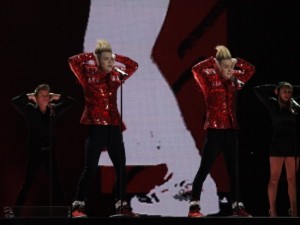 Here in July and August the energetic Irish twins, that finished 8th in this year's Eurovision Song Contest, will tour in their home country. In September however it is time to once again turn Germany upside down. 
With their energy Jedward quite quickly made aware of themselves at the international contest in Düsseldorf where they represented Ireland with the song Lipstick. They did that to such a degree that people were left wondering if they were on drugs, suffering from ADHD or just simply is like that. We didn't get the answer back then, but maybe it will be revealed during their upcoming tour.
The Irish fans will see more of them over the next couple of months and in September the twin duo return to Germany for six concerts in 7 days spread around the country.
Tour schedule: (Below you can see a video where Jedward entertain the press at this year's Eurovision Song Contest)
| | | | |
| --- | --- | --- | --- |
| Date  | Venue  | City  | Country  |
| 17/7 – 2011  | Seabreeze Festival  | Arklow, Co. Wicklow  | Ireland  |
| 23/7 – 2011  | JFK Dunbrody Festival  | County Wexford  | Ireland  |
| 24/7 – 2011  | Midsummer Magic  | Lincolnshire  | Ireland  |
| 24/7 – 2007 | Potters Leisure Resort  | Hopton on Sea  | Ireland  |
| 30/7 – 2011  | The Glasgow Show  | Glasgow  | Ireland  |
| 31/7 – 2011  | Grand Canal Theatre  | Dublin  | Ireland  |
| 01/8 – 2011  | Grand Canal Theatre  | Dublin  | Ireland  |
| 03/8 – 2011  | Aura Leisure Complex  | Letterkenny  | Ireland  |
| 04/8 – 2011  | Royal Theatre  | Castlebar  | Ireland  |
| 07/8 – 2011  | Wexford Opera House  | Wexford  | Ireland  |
| 08/8 – 2011  | UCH  | Limerick  | Ireland  |
| 11/8 – 2011  | TLT  | Drogheda  | Ireland  |
| 12/8 – 2011  | TLT  | Drogheda  | Ireland  |
| 13/8 – 2011  | INEC  | Killarney  | Ireland  |
| 14/8 – 2011  | Atlantic Sessions  | Ballybunion, Co Kerry  | Ireland  |
| 15/8 – 2011  | Waterfront  | Belfast  | North Ireland  |
| 18/9 – 2011  | Große Freiheit  | Hamburg  | Germany  |
| 20/9 – 2011  | Batschkapp  | Frankfurt  | Germany  |
| 21/9 – 2011  | TonHalle  | Munich  | Germany  |
| 23/9 – 2011  | Postbahnhof  | Berlin  | Germany  |
| 24/9 – 2011  | Gloria  | Cologne  | Germany  |
| 25/9 – 2011  | Zeche  | Bochum  | Germany  |