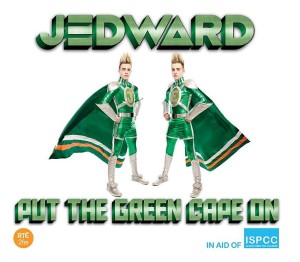 In support for the Irish national team at the Euro 2012 Jedward has recorded Put The Green Cape On to the tune of their 2011 Eurovision Song Contest entry Lipstick. The video also features Dustin the Turkey who represented Ireland in 2008.
The song Put The Green Cabe On has gotten new lyrics written by Irish radio and TV host Colm Hayes and a slightly different arrangement than Lipstick, Jedward's song for the Eurovision Song Contest last year in Düsseldorf. It is an unofficial song for Euro 2012, the European football championship currently being played in Poland and Ukraine.
All income from sale of the single goes to Irish charity ISPCC; Irish Society for the Prevention of Cruelty to Children, who works for children's rights and helps children in need. 
Most of the video is animated, but has many well known Irish personalities appearing as guest acts such as British X-Factor judge Louis Walsh, who Jedward knew from their participation in this show in 2010, Boyzone's Keith Duffy and his son Jan Duffy, Irish football player Paul McGrath, RTÉ's hosts Bill O'Herlihy and Miriam O'Callaghan, weather host Martin King, radio DJ Larry Gogan, model Glenda Gilson, professionnel boxer Bernard Dunne, Stand up comedian PJ Gallagher and several puppets figures well known to Irish children – and of course Dustin the Turkey – the Irish representative at the 2008 Eurovision Song Contest. The Turkey sang Irelande Douze Pointe, but not many countries followed that and Ireland didn't make it to the final. 
Below you can see Jedward's Put The Green Gabe On – and you can follow the Irish national team at Euro 2012 at our page that gets updated after each match.