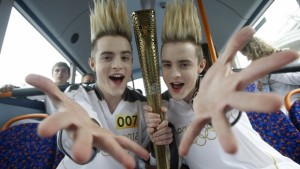 Jedward, the representatives of Ireland in the 2011 and 2012 Eurovision Song Contest, have today proved just how respected they are in Ireland and the United Kingdom by being chosen to run with the Olympic flame in Ireland, a special request which was accepted as an exception.
Usually, the Olympic flame is to reside in the country of the host city during the Olympic torch relay. However, Ireland requested an exception for their country to be included in the relay also. This was accepted by Olympics Minister Jeremy Hunt with his reasoning, "it recognises unique and deep ties between Ireland and the UK."
Therefore, it was only a matter of time before Jedward, Ireland's most popular twins and pop duo, were going to be chosen to run in the torch relay. Along with Jedward, Olympians Sonia O'Sullivan and Dame Mary Peters also ran with the torch today leaving Northern Ireland and into the Republic of Ireland towards Dublin.
Jedward carried the torch through the border of Dublin to a local post office located in O'Connell Street, where it was handed over to Irish politician, Taoiseach Enda Kenny.
The torch will soon be making its way back to Belfast in Northern Ireland where it will finish with a celebration outside the City Hall with appearances from popular acts, General Fiasco, dancers Twist and Pulse and the City of Belfast School of
Music Junior Choir.
The Olympic torch will have a total of 8,000 torch bearers on its 70 day journey direct to the opening ceremony of the London 2012 games in the Olympic Stadium, London on 27th July.