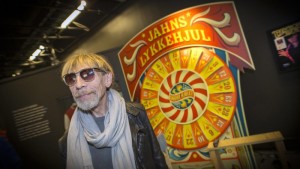 Veteran rocker Jahn Teigen is one of the most prolific norwegian Eurovision entrants with three entries to his name and a career spanning over thirty years. His contribution to the domestic music scene was celebrated with the opening of an exhitbition at Rockheim (the Norwegian rock and roll hall of fame) on Wednesday evening.
The exhibition is biographical, covering all aspects and periods of Jahn Teigen's life and lengthy career in depth. The museum has created the presentation in the form of a funfair, the inspiration taken from his solo album with the same name from 1977, Teigens Tivoli. Fans of both Teigen and music in general are now able to see much previously unreleased material about the popular artist, including many interviews with people who have worked with him over the years. Visitors will get to learn more about Teigen by having a go at fairground attractions, such as the wheel of fortune, making the exhibition much more interactive and entertaining, just as Teigen himself prefers it to be.
Teigen himself guested the official opening in Trondheim on Wednesday at 6 pm. Prior to the opening, he had a small seance with the press, where it was clear to see how touched and proud he was over the tribute to his career, as he said to tabloid Dagbladet: "It's hard to express with words, the immense honour I feel at the fact that someone wants to present my career in this way. I am so grateful and humbled to be able to experience this." Project manager at the Rockheim museum, Terje Nilsen, had this to say about the respected and beloved artist: "If there is one artist in Norway whose career has meant most to people, it has to be Jahn Teigen…We wanted the exhibition to be like a journey through his life. His life has been something of a fairground, a rollercoaster with its ups and downs, but it's been so much fun. That's what I think his life will mostly be remembered for" Nilsen went on to say.
Jahn Teigen has released no fewer than 40 albums during his career, both as a solo artist, in collaboration with his ex-wife, Anita Skorgan, as well as part of the acts Popol Ace and Prima Vera. Among some of Teigen's most noteable hits are Mil Etter Mil (giving Norway yet another nul points in 1978), Optimist (national final, 1989), the duet with his then wife Adieu (1982) and the nursery rhyme like Do-Re-Mi (1983). To honour his illustrious career, Teigen was knighted last year, and is one of fifteen nominess for induction into the Norwegian hall of fame which will take place in August. Teigens Tivoli will be open at Rockheim for the rest of the year.
Links