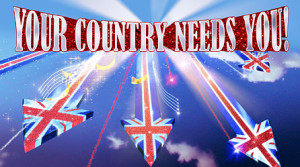 After many weeks of speculation and rumour, the BBC has now confirmed one of the most badly kept secrets of the 2010 finals season. The United Kingdom will choose it's singer on Friday March 12th.
A few weeks ago, it was revealed that 'The Hitman' Pete Waterman, will write the United Kingdom entry.  Pete has enlisted the help of one of the men who has helped him write over 200 hits, Mike Stock.
Six acts will sing live and a panel will eliminate three of them. The remaining three will then sing the song that Pete and Mike have written. When all of them have sung, the phone lines will open and the Great British public will choose the singer who will hope to do better than Jade's impressive fifth place in Moscow.
Speaking of Jade, she will be a guest on the show, together with the Sugababes, the girl group she joined shortly after the 2009 contest. Also making a guest appearance on the show will be Alexander Rybak. There are no prizes available for guessing what song he will perform!
The show starts on BBC1 at 2030 and will last for one and a half hours. For those of you who won't be able to access a webstream, EuroVisioonary will provide a live update so you can follow the action as it happens.