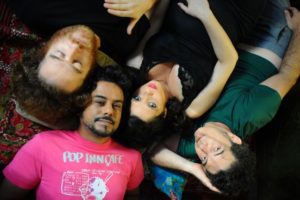 Israel is another country that picked its representative internally. After announcing the group Izabo would be representing this country, their participating song, Time, was premiered with a concert on March 1st, as was planned. Meanwhile, the viewers were able to hear the live performance of the group; the official video clip is also out.
This year, Israeli broadcaster IBA joined the numerous countries and picked its representative name internally– that an indie-rock group, Izabo, would be representing them at the 2012 Eurovision Song Contest in Baku. The reason of being selected is stated by the broadcaster, "Izabo, one of the most successful alternative pop bands of the country, will represent Israel in the upcoming Eurovision Song Contest in Baku, with the song, Time."

Izabo consists of three male and one female musicians, including Ran Shem-Tov, Jonathan Levy, Shiri Hadar and Nir Mantzur and their song Time is also written by the members Ran and Shiri. The release date of this song was set for March 1st but unexpectedly the song is leaked to Youtube before. Then the group corrected with a statement that the song on YouTube will be their act on Baku: "We have no clue as to who made the song leak to the internet. The version on Youtube is only the first one and we are still working on some changes in the final arrangement, towards the official presentation on March 1st".
On 1st March, the group premiered their song in a special concert which was held in Zappa Clup in Tel Aviv. As most of the viewer's heard Time on YouTube, they were also able to hear the latest version of the song, but the concert was not broadcast by any Israeli channel.
After the concert, the group was set for recording a video. The video was directed and edited by Yoni Man where Rotem Vannich was the manager and it takes place in a circus. Finally, the group released a video for this song via their official page in YouTube; the video will also be used for official preview clips on eurovision.tv's database.
Izabo will have an extra pressure on their shoulders as Dana International couldn't manage to qualify to the final with the song Ding Dong, finishing the second semi-final of 2011 Eurovision Song Contest with 15th in Düsseldorf. In meantime, Israel will be participating in the first semi-final of 2012 Eurovision Song Contest on 22nd May.
Below you can watch the preview video of Time: